China's Crazy Month Sends Tremors Into Europe Equity Bull Case
Biggest surge in volatility since 2008 spurs hedging

`Bumpy' road ahead, according to Vontobel Asset Management
The worst month for European equities in four years is finally making a dent in investors' confidence.
Traders whose spirits were lifted by hefty profit expectations and promises of central-bank stimulus have finally relented, pulling money out of the region's equity funds for the first time in 15 weeks. They're also paying the most since February to hedge against more declines.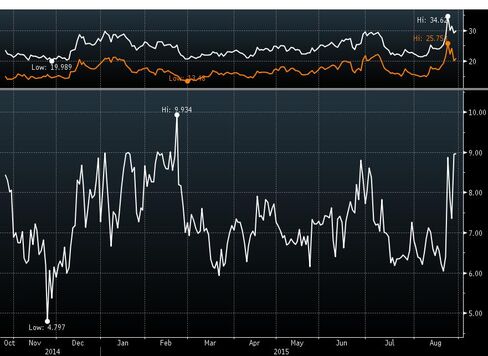 "When you take profits, you take profits where you made profits," said Romain Pasche, EFG Bank's head of investment in Geneva. "And this year investors made profits in Europe."
The Euro Stoxx 50 Index had climbed as much as 22 percent this year before stalling. Then came August, which spurred a rout that wiped off as much as $8.4 trillion of equity values. Even optimism over European Central Bank stimulus wasn't enough to keep the region's shares afloat. Credit Suisse Group AG cut its year-end target on the Euro Stoxx 50 by 10 percent, and Goldman Sachs Group Inc. reduced its allocation to the equities.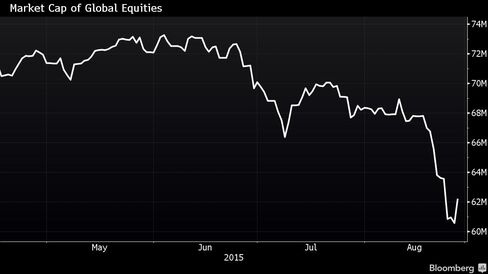 The biggest monthly surge in volatility since 2008 spurred a rush to hedge. The cost of bearish Euro Stoxx 50 options has jumped about 50 percent since Aug. 20, relative to bullish ones. Eight of the 10 most-owned contracts are bearish.
Investors withdrew $3.6 billion from European equity funds in the week ended Aug. 26, according to a Bank of America Corp. note citing EPFR Global data. Those were the largest outflows since October.
August's slump almost completely erased this year's gains, with Germany's DAX Index among the most bruised as concern grew that its exporters would get hit by China's currency devaluation. The euro, whose tumble at the start of 2015 contributed to the equity boost, has regained ground recently as investors unwound carry trades funded in the shared currency.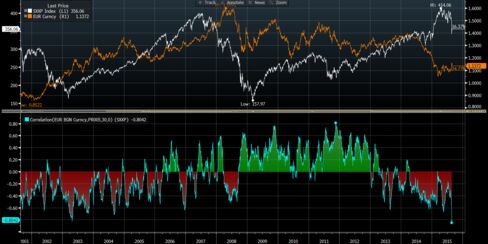 Compared with the U.S., European equities are looking more attractive. The VStoxx Index, which tracks expectations for swings in the Euro Stoxx 50, is near its lowest level since 2012 relative to the VIX. That's partly because the Federal Reserve is getting ready to increase interest rates.
Bank J. Safra Sarasin remains bullish, keeping an overweight allocation for equities.
"We think the sentiment-driven equity market correction which occurred in August went too far," Philipp Baertschi, the firm's chief investment officer, wrote in a note. "Further setbacks are feasible owing to China-related fears and uncertainty over the timing of the Fed's first rate hike. Nonetheless, we expect equity prices to be much higher by the end of the year."
Still, some traders say the market remains too volatile to invest in, even with the Euro Stoxx 50 trading at 13.9 times estimated profits, near the lowest level since January. The index moved more than 1.4 percent for seven consecutive days this month.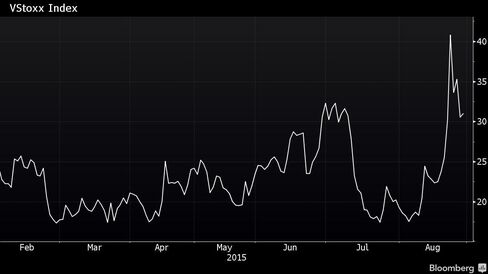 "Chances that volatility stays high are probably higher than we would like them to be," said Andreas Nigg, head of equity and commodity strategy at Vontobel Asset Management in Zurich. "The issues at hand, especially the slower growth in China, are still here. We may have seen the worst of the correction, but the bottoming out process after such high volatility usually tends to be bumpy."
Before it's here, it's on the Bloomberg Terminal.
LEARN MORE