Australia as China's Canary Means World Watching RBA's Heartbeat
RBA's comments on China market turmoil ``of most interest''

Australia likely to need lower cash rate, currency, RBC says
Any investors wanting to gauge the severity of the global fallout from China's economic downturn could do worse than listen to what Australia's central bank says Tuesday.
The Reserve Bank of Australia manages the developed world's most exposed economy to China and until now signaled stock market volatility there wouldn't hurt Chinese consumption. While traders and economists predict Governor Glenn Stevens will keep interest rates unchanged at a record-low 2 percent tomorrow, wagers on a cut by December jumped to 65 percent Monday, from about 35 percent before China devalued the yuan Aug. 11.
"Of most interest will be any comments regarding recent financial market turbulence in relation to China and emerging-market driven worries and in particular whether this suggests a strengthened easing bias," said Shane Oliver, head of investment strategy at Sydney-based AMP Capital Investors Ltd. "My view remains that the probabilities are skewed towards the RBA having to cut rates again at some point."
The stock market rout in China threatens not only Australian exports but also a fresh slump in confidence among consumers and businesses Down Under.
Company profits fell in the second quarter for the fifth time in a row, the longest stretch of declines for at least two decades, according to data released Monday by the Australian Bureau of Statistics. Firms are forecasting a 23 percent drop in investment in the fiscal year that began July 1, little changed from the 25 percent reduction they estimated three months ago, a government report last Thursday showed.
The central bank is unlikely to be much moved by the business spending data, having earlier this month predicted that investment outside the mining sector would likely remain subdued for some time; it's also flagged that the country's potential growth rate may have fallen from above 3 percent.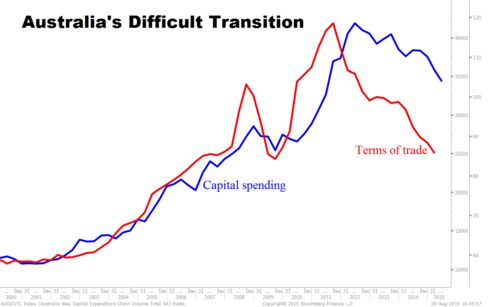 The day after China devalued its currency, the country reported industrial production, investment and retail data that trailed analysts' estimates, adding downward pressure. After China's stock market recorded the steepest falls since 1996, policy makers Aug. 25 cut benchmark lending and saving rates for the fifth time since November 2014 and lowered banks' required reserve ratio by half a percentage point.
Australia's links to China have tightened as exports to what's now its largest trading partner almost quadrupled in five years. It sent 36 percent of its exports to China in 2014, the most of any country in the Organisation for Economic Cooperation and Development, data compiled by Bloomberg show.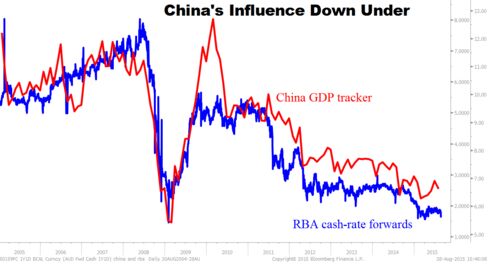 "Given recent Chinese, commodity and global developments that will likely translate through to the real economy, largely via national income, we continue to think that the odds of further easing have increased," said Su-Lin Ong, head of Australian economic and fixed-income strategy at Royal Bank of Canada in Sydney. "The currency is certainly assisting in easier financial conditions, but the risk is that Australia needs both a lower currency and cash rate going forward."
Yet the Aussie dollar's stimulatory effect could be set to wane as the currency's drop takes it to levels that have some analysts and investors seeing a floor for it. The Aussie slid 0.3 percent to 71.53 U.S. cents as of 3 p.m. in Sydney on Monday. The median estimate for the exchange rate is 71 cents by year's end, based on a Bloomberg survey of analysts.
"I've been short Aussie for a long time and I have basically taken that all off," said Hugh Killen, head of foreign-exchange trading at Westpac Banking Corp. "Looking at the fundamentals, anything past 70 cents would have you thinking that's the bottom for now."
Before it's here, it's on the Bloomberg Terminal.
LEARN MORE