Consumer Spending in U.S. Rose in July as Wages Picked Up
Consumer purchases climbed in July as incomes grew, showing the biggest part of the U.S. economy was off to a good start to the quarter.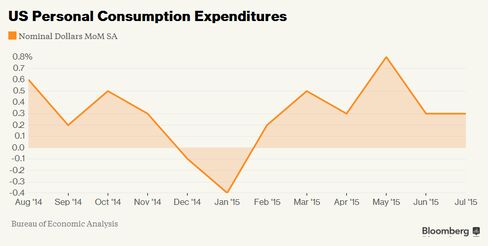 The 0.3 percent advance matched the prior month's gain, a Commerce Department report showed Friday in Washington. The median forecast in a Bloomberg survey of 77 economists called for a 0.4 percent increase. Wages rose by the most this year.
Coming on the heels of data showing spending and the overall economy did better than previously estimated in the second quarter, the figures indicate the momentum carried over into the second half of the year. Steady hiring, cheap gasoline, rising home-equity and low borrowing costs are underpinning demand and helping shield the U.S. from global weakness.
"The consumer is pretty much chugging along," said Tom Simons, an economist at Jefferies LLC in New York, who correctly forecast the spending gain. "It's clearly encouraging to see the wage gain. We definitely need more of that to see a sustained acceleration in consumption."
Projections for spending ranged from gains of 0.2 percent to 0.6 percent. The previous month's reading was revised up from an initially reported 0.2 percent advance.
Total incomes rose 0.4 percent in July for a fourth month, matching the median forecast in the Bloomberg survey. Wages and salaries increased 0.5 percent, the biggest gain since November.
Because spending increased less than incomes, the saving rate rose to 4.9 percent from 4.7 percent.
Inflation-Adjusted
The report also showed that adjusting consumer spending for inflation, which generates the figures used to calculate gross domestic product, purchases rose 0.2 percent after being little changed the previous month.
Economic growth accelerated to a 3.7 percent annualized rate in the second quarter, revised up from a previously reported 2.3 percent pace and following a 0.6 percent gain in the first quarter, according to Commerce Department data released Thursday. The 3.1 percent jump in household purchases also was more than the prior estimate.
Details of the July spending and income report showed durable goods purchases, including automobiles, jumped 1.3 percent after adjusting for inflation, with about half the gain coming from demand for autos and parts. That followed a 0.9 percent drop. Spending on non-durable goods, which include gasoline, rose 0.1 percent.
Household outlays on services also rose 0.1 percent after adjusting for inflation. The category, which includes tourism, legal help, health care, and personal care items such as haircuts, is typically difficult for the government to estimate accurately.
Little Inflation
The report showed inflation remained tame. The price gauge based on the personal consumption expenditures index increased 0.1 percent from the prior month and was up 0.3 percent from a year earlier.
The core price measure, which excludes food and fuel, also rose 0.1 percent from the prior month and was up 1.2 percent from July 2014, the smallest year-to-year gain in four years.
Inflation hasn't reached the Fed's 2 percent goal since April 2012.
Consumers are getting a boost from an improving job market. Payrolls climbed by 215,000 and the unemployment rate was at a seven-year low of 5.3 percent in July.
Gasoline prices have fallen almost 30 cents a gallon since this year's high of $2.80 reached in the middle of June, data from auto group AAA showed.
Fed policy makers, considering raising the benchmark interest rate for the first time since 2006, are watching the global stock-market turmoil.
While recent stock-market gyrations may trim household wealth, cheaper fuel and steady hiring will provide some offset, economists have said. That will help cushion the economy from slowing overseas sales and financial turbulence worldwide, they predicted.
Before it's here, it's on the Bloomberg Terminal.
LEARN MORE