GPIF Nears End of Asset Shift as Fund Posts 1.9% Quarterly Gain
The world's biggest pension fund has neared the end of its unprecedented asset shift.
Japan's $1.2 trillion Government Pension Investment Fund has shifted its allocations for stocks and bonds at home and abroad to within three percentage points of its targets, investment results for the April-June quarter released Thursday show. The fund returned 1.9 percent in the period as local equities gained and the yen fell. It lost 50 billion yen ($416 million) on its domestic bond holdings.
Investors have been watching GPIF's mix of holdings to gauge the impact on financial markets. With the pension giant's main shift in assets done, analysts will be paying more attention to details such as its weighting in passive investments versus actively-managed funds, alternative assets, and how the fund handles corporate governance issues.
GPIF held about 38 percent of its assets in domestic bonds, 23 percent in Japanese stocks, 13 percent in foreign debt and 22 percent in overseas equities at the end of June, the statement shows. It targets 35 percent in JGBs, 25 percent each in domestic and foreign stocks, and 15 percent in overseas bonds. Alternative investments accounted for 0.05 percent out of a possible 5 percent of its assets.
Already Moved
"GPIF has already reshuffled its core portfolio and diversified its passive benchmarks, but it still has work to do in terms of lowering its weighting of passive investments in domestic equities," Keiichi Ito, chief quantitative analyst at SMBC Nikko Securities Inc. wrote in a report on July 17. He estimated GPIF would have had 23.3 percent of its assets in Japanese stocks by the end of June.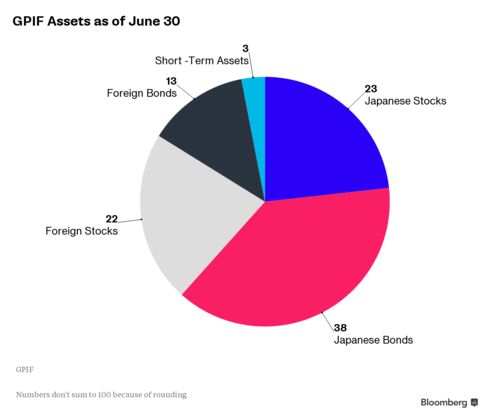 The fund's 1.9 percent return in the first quarter was its lowest in a year, with domestic bonds posting a 0.1 percent loss. Japanese stocks gained 5.9 percent. Foreign shares returned 2.4 percent while overseas debt added 0.7 percent amid a weaker yen, the fund said.
Before it's here, it's on the Bloomberg Terminal.
LEARN MORE