Asian Stocks Track U.S. Rebound as China Shares Stage Late Surge
Shanghai rallies after biggest five-day rout since 1996

Speculation China state funds may have resumed buying stocks
Asian stocks rose for a second day, led by a surge in Chinese markets in the final hour of trading, after U.S. equities halted a six-day rout.
The MSCI Asia Pacific Index gained 1.8 percent to 128.08 as of 4:02 p.m. in Hong Kong, with all 10 industry groups advancing. The Shanghai Composite Index soared 5.3 percent, rallying after the biggest five-day rout since 1996, amid speculation state funds have resumed buying.
The Standard & Poor's 500 Index jumped 3.9 percent on Wednesday, the most since 2011. Two things that have supported U.S. stocks in the past, dovish words from the Federal Reserve and improved economic data, halted a plunge that erased $2.2 trillion from equity values. Global market turmoil has weakened the case for raising U.S. rates in September, Fed Bank of New York President William C. Dudley said, cautioning that it's important not to overreact to short-term developments.
"Solid U.S. economic data, stimulus efforts from the Chinese central bank and signs that the Federal Reserve is backing off from a September rate hike helped," said Jasper Lawler, a London-based market analyst at CMC Markets. "Anxiety is likely to maintain a tight grip over investors until the wild gyrations in share prices calm down and signs of a bottom are put in markets."
Hong Kong's Hang Seng Index gained 3.6 percent and the Hang Seng China Enterprises Index of mainland firms listed in the city rose 4.6 percent. The Shanghai index rebounded after tumbling 23 percent to an eight-month low in the previous five days.
Heavyweights Rally
"Heavyweight stocks like banks and insurance companies helped pull up the index, and it's possibly China Securities Finance entering the market again to shore up stocks," said Zhang Gang, a strategist at Central China Securities Co. in Shanghai. China Life Insurance Co. soared 10 percent in Hong Kong after reporting higher profits.
Japan's Topix index rose 1.4 percent and the Nikkei 225 Stock Average gained 1.1 percent. The Nikkei Stock Average Volatility Index, which rose less than 1 percent on Thursday and closed at 36.08, remains 74 percent higher than its average this year.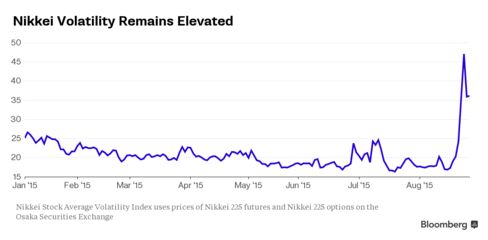 South Korea's Kospi index gained 0.7 percent and Australia's S&P/ASX 200 Index climbed 1.2 percent. Singapore's Straits Time Index added 2.6 percent and India's S&P BSE Sensex Index rose 1.8 percent. New Zealand's NZX 50 Index rallied 1 percent and Taiwan's Taiex Index gained 1.4 percent.
The S&P 500 rose the most since November 2011 in New York, while the Dow Jones Industrial Average jumped 619 points, or 4 percent. Trading was subject to the same fluctuations seen in overseas markets. A surge in the first few minutes of trading was more than halved before an afternoon rebound took over. E-mini futures on the S&P 500 added 0.9 percent Thursday.
Before it's here, it's on the Bloomberg Terminal.
LEARN MORE