Wal-Mart to Stop Selling Military-Style Guns After Demand Drops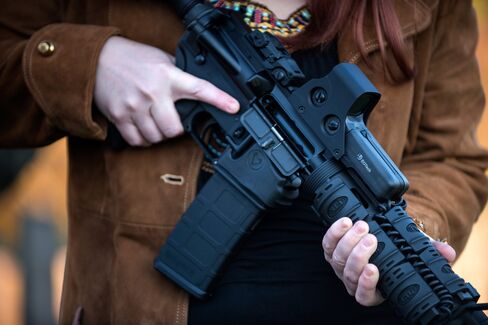 Wal-Mart Stores Inc. will stop selling military-style weapons such as the AR-15 rifle this fall, citing declining customer demand for the controversial firearms.
Wal-Mart will replace the guns with other types of rifles, as well as shotguns and other hunting merchandise, said Wal-Mart spokesman Kory Lundberg. The AR-15 model has been used in mass shootings, including at a school in Newtown, Connecticut, three years ago. But the move was a business decision based on sales and wasn't politically motivated, Lundberg said.
"If you have a product customers aren't buying, you phase it out," he said. Shoppers "were buying shotguns and rifles, and so we are increasing assortment in that."
The company will continue stocking ammunition for the AR-15.
Wal-Mart has been selling modern sporting rifles, the industry term for guns that look like the military-style M-16 rifle, at about a third of its U.S. locations. In 2006, the company reduced the number and variety of guns it offered in stores and replaced them with more upscale products such as exercise equipment. It then reintroduced firearms to many locations in April 2011, part of a broader strategy to add back merchandise and boost sales growth at U.S. stores.
Wal-Mart, based in Bentonville, Arkansas, doesn't disclose how much money it makes selling guns.
Military-style weapons have been criticized by gun-control advocates for their use in mass shootings. After the Newtown shooting, which killed 26 people, Wal-Mart said it would continue to sell the guns.
Before it's here, it's on the Bloomberg Terminal.
LEARN MORE