Shift to consumer-focused economy is boosting demand for meat

Slower manufacturing means less need for steel and pig iron
China wants an economy driven by consumption and not investment. That means putting more spare ribs on the table and forging fewer girders for skyscrapers.
As incomes rise, people are spending more on consumer products from luxury handbags to baby food. Already the meat of choice in many households, pork demand is growing.
The Chinese account for more than half the world's consumption and are importing more than ever. The nation purchased a record 319,891 metric tons of pork in the first half of the year. Smithfield Foods Inc., the world's largest producer, increased shipments to China by 45 percent.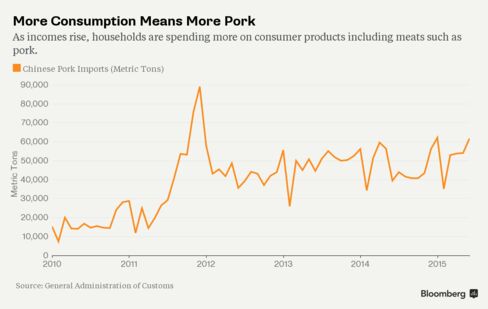 Domestic demand increased almost 12 percent over the previous four years and will grow 0.4 percent in 2015, according to the U.S. Department of Agriculture. While a surge in domestic prices amid a widespread cull by farmers may temper demand in the near-term, consumption is forecast to increase in the long-run. The Chinese will eat more than 33.4 kilograms per capita by 2024, up from 31.8 kilograms this year, according to estimates from the Organisation for Economic Cooperation and Development and Food and Agriculture Organization.
"Shoppers are consuming more meat-based proteins as their income levels rise and diets converge with mature markets," said Thomas Jastrzab, a Hong Kong-based consumer analyst at Bloomberg Intelligence. "Policies to increase urbanization and lift minimum wages are playing an important role in stimulating domestic consumption."
Almost a third of urban households earn in excess of $15,000 a year, double that of 2009, Jastrzab said, citing data from Euromonitor. More than half the country now lives in towns and cities, according to the World Bank.
While more money means more pork for dinner, it's consumption of another sort of pig that tells the flip side of China's economic story. Pig iron is used to make steel, the backbone of construction, and demand is shrinking.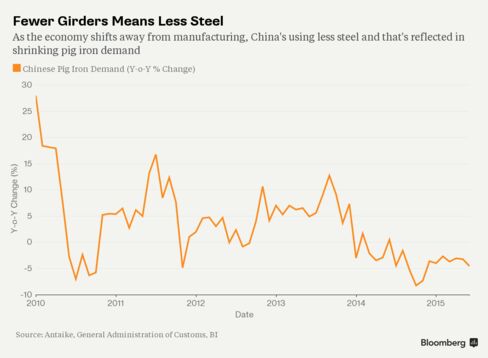 China is on track for the weakest growth since 1990 as the government steers the economy away from manufacturing. A sharp decline in building completions and falling land purchases show how construction is slowing.
Materials from copper to iron ore and steel have sunk to multi-year lows and pessimism is spreading across the metals market, according to Bloomberg Intelligence. As China's demand shrinks, its selling more steel and aluminum overseas and that's weighing on global prices, said Yi Zhu, a metals and mining analyst at Bloomberg Intelligence.
"China is no longer absorbing all of its iron and steel production," said Wang Jianhua at Mysteel Research, an industry consultant. "We have to cut the overcapacity in domestic mills."
The speed with which the nation can replace growth derived from investing in buildings and infrastructure with expansion led by shoppers holds the key to China's economic future.
"China's economy is in the middle of the transition that most developed nations have already been through," said Zhao Yang, chief China economist at Nomura Holdings Inc. in Hong Kong. "Growth will be slower because the influence of retail consumption is much weaker than stimulus from investment."
— With assistance by Alfred Cang
Before it's here, it's on the Bloomberg Terminal.
LEARN MORE