Top Saudi Suspect in 1996 Anti-U.S. Bombing Arrested, Sharq Says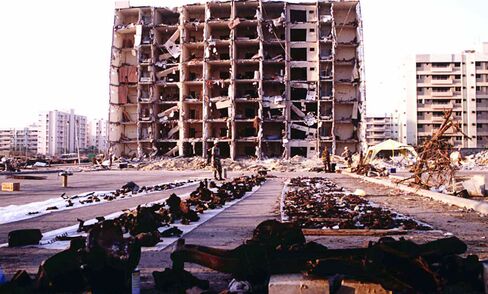 The mastermind of the 1996 truck bombing in Khobar, Saudi Arabia, that killed 19 U.S. servicemen has been arrested, the Saudi-owned Asharq al-Awsat newspaper reported Wednesday.
Saudi national Ahmed al-Maghsal, who's been on the run for 19 years, was arrested in Beirut and handed over to Saudi authorities in the capital, Riyadh, the newspaper said, citing officials it didn't identify.
It said al-Maghsal planned the bombing in Tehran and headed the Iranian-backed Saudi offshoot of the Hezbollah militant group.
There was no immediate comment from Saudi officials.
On June 25, 1996, a truck bomb exploded at the Khobar Towers housing complex quartering U.S. military personnel, killing the 19 airmen and injuring hundreds of others. The explosion was the largest non-nuclear blast until that time, the U.S. Defense Department said at the time.
Six people arrested by the Saudis implicated senior Iranian officials in organizing the attack, U.S. court records show.
The victims were in Saudi Arabia helping to enforce the cease-fire that ended the 1991 "Desert Storm" expulsion of Iraqi troops from Kuwait.
In 2006, the U.S. held Iran liable for the bombing. A U.S. judge ordered Iran to pay $254 million to families of 17 of the 19 U.S. servicemen killed in the attack.
Before it's here, it's on the Bloomberg Terminal.
LEARN MORE