Relief Rally Spreads Across Markets as Dollar Gains on U.S. GDP
GDP report helps S&P 500 cap best two-day gain since 2009

Sudden paring in U.S. stocks shows markets still vulnerable
A relief rally swept around the globe, with the Dow Jones Industrial Average capping its biggest two-day gain since 2008 and Chinese shares snapping a five-day tumble. Oil jumped the most in more than six years after data showed the U.S. economy grew more than forecast in the second quarter.
American stocks briefly spiked lower in late afternoon trading, as the Standard & Poor's 500 Index cut an advance of as much as 2.5 percent to less than 0.5 percent before reversing course and rallying again, indicating markets are still vulnerable to sudden swings.
Shares surged from Asia to the U.S. after the biggest advance in the S&P 500 in four years on Wednesday helped restore some appetite for riskier assets. The rally halted the selloff that's engulfed markets since China devalued its currency on Aug. 11, an unexpected move that ignited concern that the slowdown in the world's second largest economy may threaten global growth.
"We got our pullback, and now we're going to focus on U.S. things like GDP and the Fed," said John Canally, chief economic strategist at LPL Financial Corp. in Boston. "When you're in a correction, it's not fun, but when you're out, you can refocus on what matters."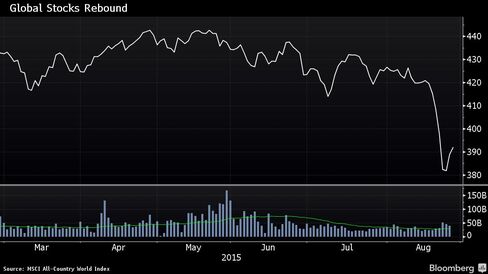 The better-than-expected gross domestic product reading bolstered confidence in the outlook for the American economy as the Federal Reserve prepares to raise interest rates for the first time in almost a decade. Meanwhile, Chinese stocks surged in the last hour of trading as people familiar with the matter said the government stepped in to the market to shore up prices.
The S&P 500 advanced 2.4 percent by 4 p.m. in New York, building on Wednesday's 3.9 percent surge. The two-day gain was the biggest since the bull market began more than six years ago. The rally halted a six-day plunge that wiped out $2.2 trillion in equity value and sent the benchmark U.S. measure into a correction. The Stoxx Europe 600 Index climbed 3.5 percent, while a Bloomberg gauge of commodities rebounded from a 16-year low as U.S. oil soared 10 percent. The Bloomberg Dollar Spot Index rose 0.2 percent.
U.S. stocks pulled back from their highs after 2 p.m., trimming gains to 0.4 percent before jumping back near their previous highs by the close. The retreat came as JPMorgan Chase & Co. derivatives strategist Marko Kolanovic warned in a note that "price insensitive" program traders are likely to cause repeated selloffs in coming days.
'Abnormal' Trading
"This is abnormal-type trading," said Walter "Bucky" Hellwig, who helps manage $17 billion as a senior vice president at BB&T Wealth Management in Birmingham, Alabama. "I think in a volatile market like this, you can see an inordinate number of buys or sells at the open or close."
Such volatility will eventually subside but "we may have this for another three-to-four days or three-to-four weeks," Hellwig said.
Despite the swings, gauges of volatility eased after reaching their highest levels since 2011 this week. Europe's VStoxx Index fell 13 percent on Thursday, while the Chicago Board Options Exchange Volatility Index, or VIX, has dropped 36 percent in three days, the most since October.
"There seems to be a palpable relief especially after the ugly close on Tuesday," Chris Bouffard, chief investment officer who oversees about $10 billion at Mutual Fund Store in Overland Park, Kansas, said by phone.
"A lot of people are breathing a sigh of relief and recognizing that this is a technical event, not a fundamental economic event. When you see the GDP surprise today, the fundamental is solid."
Data Thursday showed GDP in the U.S. rose at a 3.7 percent annualized rate last quarter, exceeding all estimates in a Bloomberg survey, and up from the 2.3 percent growth rate reported last month. Bigger gains in consumer and business spending showed the U.S. expansion is getting back on track.
Interest Rates
The shortest-maturity Treasury notes fell for a third straight day as traders added to bets the economy is strong enough for the Fed to raise rates as soon as next month. New York Fed Bank President William Dudley said Wednesday the recent market turmoil has made the case for boosting borrowing costs in September "less compelling."
The MSCI Emerging Markets Index advanced 3.3 percent Thursday, the most in three years, as stock valuations near their lowest level since March 2014 spurred appetite for developing-nation assets. The ruble jumped 4.2 percent, leading gains as a gauge of 20 currencies rebounded from a record low.
The Shanghai Composite Index fell as much as 0.7 percent in the afternoon session before surging in late trading to close 5.3 percent higher. Hong Kong's Hang Seng China Enterprises Index advanced 4.6 percent Thursday.
China's government intervened to bolster the stock market before a Sept. 3 military parade celebrating the 70th anniversary of the victory over Japan during World War II, said people familiar with the matter, who asked not to be identified because the move wasn't publicly announced.
The Shanghai gauge, which dropped 43 percent from a June high through Wednesday, hasn't spent an entire trading day in positive territory since Aug. 10, the day before China devalued its currency. The yuan gained 0.2 percent in offshore trading Thursday.
The Bloomberg Commodity Index climbed 3 percent, the most since June 2012, with copper and nickel rallying at least 4.2 percent in London and gasoline prices also soaring.
West Texas Intermediate crude surged to $42.56 a barrel in New York as oil was caught up in the relief rally and the GDP figures burnished the outlook for energy demand. WTI futures touched $37.75 on Monday, their lowest level since February 2009. Prices have decreased 20 percent this year.
Before it's here, it's on the Bloomberg Terminal.
LEARN MORE