Goldman Distressed-Debt Traders Ensnared in Market Turmoil
Group said to have lost between $50 million and $60 million

Bank said to replace traders and salespeople who've left
Even Goldman Sachs Group Inc. hasn't been left unscathed by the carnage in the market for distressed debt this year.
Goldman Sachs has lost $50 million to $60 million on its distressed-trading desk in 2015, according to people familiar with the performance. The unit suffered losses on its position in Verso Corp., a paper producer whose bonds lost two-thirds of their value this year, as well as on debt of energy companies, said the people, who asked not to be named discussing the information because it isn't public.
Banks and investors who buy debt that mainstream money managers jettison have had a tough year making profits. Not only are they chasing a limited number of opportunities, they're losing out on usually successful strategies. Commodities-linked debt has been disastrous. Even litigation-dependent investments, where distressed-debt buyers have an edge in predicting how a bankruptcy court will treat particular slices of debt, haven't panned out.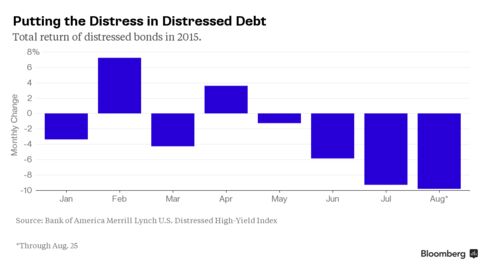 Goldman Sachs's distressed-trading desk, previously called distressed investing, is part of the firm's credit-trading business along with investment-grade, high-yield and structured products. That unit has generated about a quarter of the bank's fixed-income trading revenue over the past five years, or about $2.5 billion a year.
The distressed trading team has seen turnover in the past year, as Tom Tormey was named a partner, promoting him above the other two co-heads of the group. Jerry Keefe left the bank for Cargill Inc.'s CarVal Investors hedge-fund unit in March, while Dennis Lafferty remains with the firm.
The team has had at least four departures of junior and mid-level employees recently, including salespeople Justine Robertson, who left for bond-trading system TruMid Financial LLC, and Cheryl Cecchini, who now works for a unit of TPG Capital, according to Financial Industry Regulatory Authority records. Earlier this year, Goldman Sachs distressed-debt trader Ned Oakley, a managing director who had been with the firm for nine years, left for GLG, a unit of Man Group Plc.
Michael DuVally, a spokesman for New York-based Goldman Sachs, declined to comment on the personnel moves. Tormey, Lafferty and Keefe declined to comment. Robertson, Oakley and Cecchini didn't immediately respond to e-mail or phone messages seeking comment.
The unit has recruited for open positions. Philip Giordano, a former director in the distressed-products division for Deutsche Bank AG, joined as a trader earlier this month while Jack Devaney, formerly with Credit Suisse Group AG, was hired for distressed-bond sales in July, according to a person with knowledge of the matter. Goldman Sachs also hired Earl Hunt, a vice president for distressed sales who previously worked at Citigroup Inc. Distressed-debt trader Yan Zhang joined from Achievement Asset Management, a hedge-fund firm which was spun out of Peak6 Investments, the person said.
Goldman Sachs's fixed-income trading revenue fell 8.7 percent in the first half of the year, the biggest decline among the five largest Wall Street firms. It doesn't break out revenue by product on a quarterly basis.
The company set Wall Street records for debt-trading revenue in 2007 and 2009.
The distressed desk is separate from the firm's special-situations group, which makes investments in distressed debt among other assets and reports its results through the firm's investing and lending segment.
Goldman Sachs's stock gained 1.7 percent to trade at $187.50 at 9:45 a.m. in New York. The shares have lost 3.2 percent this year while the S&P 500 Index dropped 4.2 percent.
Before it's here, it's on the Bloomberg Terminal.
LEARN MORE