Coal Seen Dropping Below $50 in Rout as Output Fails to Slow
Miners maintaining output amid strong dollar, low oil costs

European price may fall as low as $45, according to Nena
Coal may drop below $50 a metric ton this year as a supply glut combines with a slide in emerging market currencies that supports exports.
The U.S. dollar's gain to near its highest since at least 2005 against a basket of 10 leading currencies shielded earnings for producers from Australia to Colombia. China, the world's biggest user, is turning to cleaner alternatives including hydroelectric dams to battle pollution that is killing 1.6 million people a year. Global seaborne supply will grow 1.2 percent this year, while demand may shrink 2.8 percent, according to Deutsche Bank AG.
"Demand is falling everywhere, yet production is still rising in a lot of places," Thomas Pugh, an economist in London at Capital Economics Ltd., said by phone Aug. 20. "A lot of that is due to currency movement, due to the fall in oil prices, especially in places like Russia, Colombia, Australia."
Benchmark next-year coal in Europe may drop as low as $45 before rising to $53 a ton by year-end, according to Diana Bacila, an analyst in Oslo at Nena AS. While prices below $50 are "not sustainable," they may fall below that level before the end of the year, said Eugen Weinberg, an analyst in Frankfurt at Commerzbank AG.
Coal in Europe fell for an eighth week through Aug. 21, its longest losing streak since January, according to broker data compiled by Bloomberg. The contract rose 1.1 percent to $52.40 a ton by 12:29 p.m. London time on Thursday, trimming its drop from a record in July 2008 to 76 percent.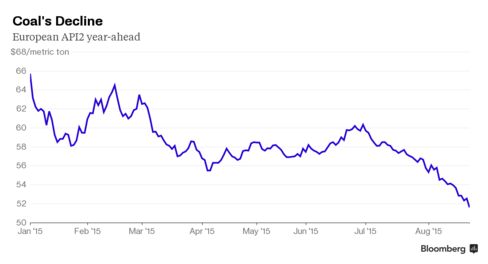 The world's five largest exporters increased sales in the first half of this year, with combined shipments from Indonesia, Australia, Russia, Colombia and South Africa gaining 0.1 percent to 343 million tons, government data and estimates from Bloomberg Intelligence show. The boost may help turn a 34 million ton shortfall in the seaborne market in 2014 to a surplus of 10 million tons this year, according to Deutsche Bank. Oil's decline to a six-year low also reduced operating costs at mines.
After further slides in the next few months, European next-year coal will stabilize and end the year at $52.50, 1.3 percent above Wednesday's price, according to the median of seven analyst estimates compiled by Bloomberg. U.K. coal imports in June fell to 1.3 million tons, the least since August 1999, according to Department of Energy data.
Rail Bans
Exports from Colombia slipped by 4.6 percent to 38 million tons in the first half as restrictions on transporting the mineral by rail at night in some parts of the country interrupted the flow of coal to ports.
"It is possible Colombia will increase exports in the second half of 2015 as nighttime rail bans are expected to end," Ted O'Brien, chief executive officer of Doyle Trading Consultants LLC, said by e-mail Aug. 18. "South Africa is dealing with oversupply in the Pacific Basin, slightly weaker demand from India, but has not yet shown any signs of reducing output."
Demand from China, the world's largest consumer of raw materials, fell by 25 million tons, or 31 percent, to 54 million tons in the first half, the biggest drop since at least 2009. While Indian imports rose by 23 million tons, or 35 percent, to 88 million tons in the six-month period, surging domestic output probably means demand will shrink, Coal Secretary Anil Swarup said Aug. 12.
Global coal prices "can probably go quite a lot lower," Pugh said. "A lot of it is the downward pressure from a lack of demand in China, the U.S. and Europe. India's the most recent one: everyone's been banking on India to take up the slack and it appears they're just not doing that."
For Related News and Information:
Cheap Power or Clean Energy? Modi's $200 Billion India Dilemma
Colombia Coal Seller Sees No End in Sight for Price Slump
Goldman Ends Losing Colombian Coal Bet With Sale to Murray
Top coal market stories: NI COALMARKET
Top energy stories: NI NRG
Before it's here, it's on the Bloomberg Terminal.
LEARN MORE