China Doing What Greece Didn't as Traders Give Up on Europe ETFs
WisdomTree Europe Hedged Equity Fund sees record outflow

Investors also pull money out of Vanguard FTSE Europe ETF
All through the equity plunge that culminated in a bloodbath on Monday, exchange-traded funds tracking European equities held on to investments. That might be changing now.
The WisdomTree Europe Hedged Equity Fund and Vanguard FTSE Europe ETF both had their first withdrawals in months. Investors are capitulating as they start to question their bets that Europe's stocks would rally with an economic recovery, according to Nicola Marinelli of Pentalpha Capital Ltd.
"It's the sudden realization that assumptions about the global economy were too optimistic," said Marinelli, a fund manager who helps oversee 114 million euros ($130 million) of assets at Pentalpha in London. "Advisers were all suggesting to stay long equity, to stay long European stocks. The real big step down has been happening recently, so it's not surprising ETFs took a week or two to adjust."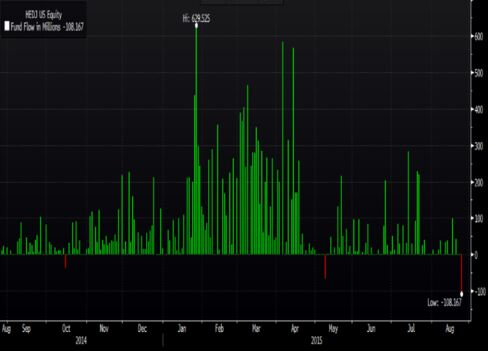 The WisdomTree ETF, which tracks European stocks while hedging against euro fluctuations, saw a record amount of money pouring in in the first quarter as optimism grew the European Central Bank's quantitative easing would propel the economy. Investors took out $108 million from the ETF on Tuesday, the most ever and the first withdrawal since May. The Vanguard fund had outflows of $127 million, its first since January.
Turmoil in Greece earlier this year did nothing to abate the flow into these funds, and until Tuesday, neither did concerns about China's slowdown or the Federal Reserve's impending rate increase. They kept getting money even as the Stoxx Europe 600 Index plunged 14 percent in the two weeks following China's currency devaluation. The move rippled through markets, erasing $2.7 trillion of equity value on Monday alone.
The Stoxx 600 advanced 2.9 percent at 10:01 a.m. in London.
While investors in the two ETFs have now begun to take money out, others have started buying stocks as valuations fall. Aviva Investors is increasing its allocation to equities, according to Peter Fitzgerald, its head of multi-asset strategy.
"We have added to equity positions in continental Europe, Japan and the U.S. in recent days, and view any further bouts of extreme volatility as an opportunity to add exposure to these regions," Fitzgerald wrote in an e-mailed note. "Worse-than-expected Chinese growth and the first U.S. rate rise since 2006 are legitimate concerns for markets, but both seem to have been largely priced in to asset valuations for some time."
Bears weren't done with stocks on Wednesday at least. After rebounding on Tuesday from its worst plunge since the financial crisis, the Stoxx 600 resumed declines. The gauge has tumbled 15 percent from an April record.
"It's been like a snowball," said Allan von Mehren, chief analyst at Danske Bank A/S in Copenhagen. "One decline triggers another decline and another, until the whole market is affected."
Before it's here, it's on the Bloomberg Terminal.
LEARN MORE