Catalonia Attacks 'Infinite Cynicism' as Spain Curbs Powers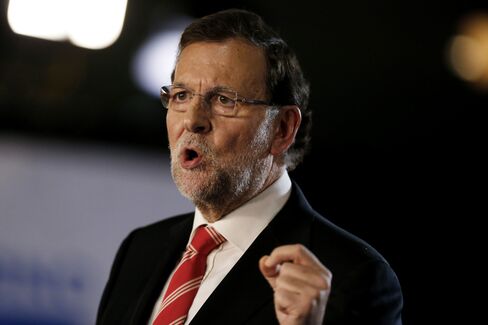 Prime Minister Mariano Rajoy has introduced rules that effectively revoke the powers of the Catalan government, the regional president's right hand man said, before a vote that could fuel separatists' bid to split from Spain.
Rajoy is forcing regional officials to get approval from the central government before paying commercial creditors, Francesc Homs, the head of the Catalan's presidency department, said in an interview in Barcelona Wednesday. The national government in Madrid has also ruled that laws only come into force once they've been published in the Spanish Official Gazette, preventing regional leader Artur Mas from introducing legislation using the Catalan equivalent, Homs said.
Mas's bid for independence has set him on a collision course with Rajoy who says that his plans are unconstitutional. Mas has framed the Sept. 27 regional election as a ballot on independence after Rajoy blocked his attempt to hold a referendum last November.
"When someone says we could get the region's autonomy suspended, I tell them they've actually done it already," Homs said. The central government is acting with "infinite cynicism," he added.
Catalonia is home to 7.4 million people in the northeast corner of the Iberian peninsula and has a gross domestic product of about 193 billion euros ($219 billion), making it Spain's biggest regional economy. Catalan output is about the same as Finland's or Scotland's, where voters opted to remain part of the U.K. in an independence referendum last year.
Mas may also fail to muster enough support for a breakaway, polls show. His pro-independence platform is set to win 36 percent of the vote and about 57 seats in the 135-strong regional assembly, according to a survey by NC Report published in La Razon newspaper on Thursday.
Markets Shut
Mas's room for maneuver is constrained in financial terms because the region borrowed about 40 billion euros from Spain's regional rescue fund after losing access to market funding during the financial crisis.
The terms of those loans give Rajoy special powers over the region's finances and even after seven months of quantitative easing by the European Central Bank, Catalonia is still banned from tapping bond markets because it hasn't met the central government's budget targets.
Budget Minister Cristobal Montoro denied that the central government aims to reclaim powers from the country's region's in the Spanish parliament on Wednesday.
"I want to make this perfectly clear, the Spanish government has no intention to recentralize," Montoro said. "We believe in regional autonomy as understood within the Spanish constitution."
Spain's efforts to standardize the price paid for drugs across the country have increased the costs of healthcare in Catalonia, Homs said. Catalonia, which like other regions runs its own healthcare system, had negotiated better prices with providers than those the central government obtained in its nationwide negotiations, he said.
Montoro has also introduced a rule giving his department a veto over any subsidies the regional administration wants to award, said Homs.
"They've done it in such a way that my mother wouldn't notice," Homs said. "We have the appearance of being a government. We have the regional parliament; we have elections; we have people there. But we can't publish anything."
Before it's here, it's on the Bloomberg Terminal.
LEARN MORE