PBOC's Zhou Under Pressure to Ease Monetary Policy Further
Zhou Xiaochuan probably isn't finished yet.
Even after cutting interest rates for the fifth time since November and telling banks they can hoard less cash, the People's Bank of China governor remains under pressure to do more to support the world's No. 2 economy amid the biggest slide in stocks since 1996.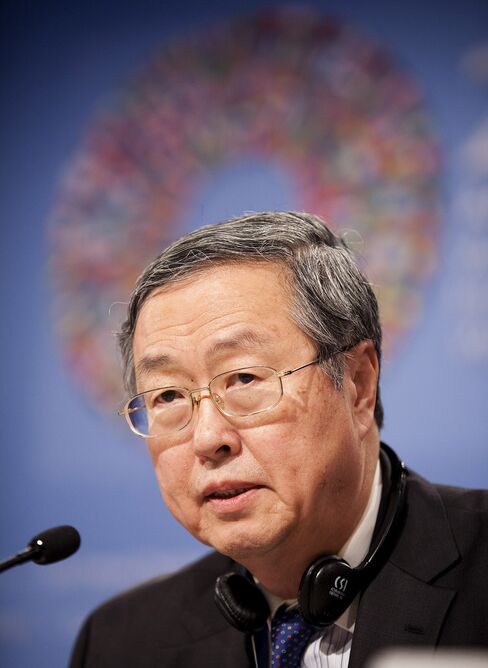 "A circuit breaker is needed to dispel excessive pessimism and restore confidence," says Frederic Neumann, co-head of Asian economics research at HSBC Holdings Plc in Hong Kong. "Further support measures in the coming weeks and months will be needed."
Equities around the world initially rallied on Tuesday after the PBOC said it will cut the one-year lending rate by 25 basis points to 4.6 percent and lowered the required reserve ratio by 50 basis points for all banks. In the U.S., a gain of as much as 2.9 percent in the Standard & Poor's 500 Index was erased in late trading. Zhou swung into action two weeks since a devaluation of the yuan and a deceleration in his economy ignited fears about the outlook for global growth.
The Shanghai Composite Index dropped 1.3 percent at the market close on Wednesday, reversing earlier gains. Interest-rate swaps fell and the overnight money-market rate broke a record 39-day run of gains.
"This is a positive development that will help curb investor anxiety about a pronounced slowdown in China's growth," said Tim Condon, the head of Asian research at ING Groep NV in Singapore. "It should curb contagion to global markets."
More Cuts
Shane Oliver, head of investment strategy at fund manager AMP Capital Investors Ltd. in Sydney, is among those predicting further reductions in rates and the reserve ratio. He anticipates China will cut its benchmark lending rate to 4 percent by year-end, using an arsenal unavailable to counterparts such as the Federal Reserve which already run key rates near zero.
"China's monetary policy is way too tight," Oliver said. "Further easing in both interest rates and the reserve ratio will be needed."
The fresh easing reinforces efforts by policy makers to deliver on Premier Li Keqiang's 2015 growth goal of about 7 percent. That is being jeopardized by deflation risks, over-capacity and a debt overhang, which leave the economy poised for its slowest expansion since 1990. Industrial production, investment and retail data all trailed analysts' estimates in July.
Surprise Devaluation
The easier conditions for banks may have been necessitated by a need to offset a drying up of liquidity in markets following the surprise decision of Aug. 11 to devalue the yuan. The PBOC subsequently bought its currency to stabilize the exchange rate and curb capital outflows. China Merchants Securities Co. estimated the policy action is the equivalent of releasing 700 billion yuan ($109 billion) into the financial system.
"If the central bank keeps defending the yuan, the cut is apparently not enough and it has to do more," said Yao Wei, a Paris-based China economist at Societe Generale SA.
The economy still faces downward pressure and the task of stabilizing growth, adjusting its structure, pushing reforms and improving living standards is very challenging, the PBOC said in a Q&A-style statement released after the move. Given volatility in global financial markets, "we need to use monetary policy tools more flexibly," it said.
Changed Tack
China has halted intervention in the stock market so far this week as policy makers debate the merits of an unprecedented government campaign to support share prices, according to people familiar with the situation. Some officials argue that falling stocks will have a limited impact on the world's second-largest economy and that the costs of supporting the market are too high, said one of the people, who asked not to be identified because the deliberations are private.
"With the government's efforts to prop up equity prices through direct purchases in tatters, policymakers have changed tack," said Mark Williams, chief Asia economist at Capital Economics Ltd. in London. "The move may halt the market slide but we suspect the primary motivation is to shore up confidence in the state of the wider economy."
Before Tuesday's move, Zhou had already this year lowered the required reserve ratio twice, with an additional move targeted to certain banks. Officials are also acting to boost lending including at the country's policy banks.
Tuesday's shift drew comparisons with past crisis-fighting efforts from the Fed and other key central banks to act aggressively to protect economies from slowdowns and financial markets from selloffs.
"It is really no different from any other central bank," said Roberto Perli, a partner at Cornerstone Macro LLC in Washington and a former Fed economist. "When things get hairy, it eases."
— With assistance by Simon Kennedy, Xiaoqing Pi, Kevin Hamlin, and Xin Zhou
Before it's here, it's on the Bloomberg Terminal.
LEARN MORE