Wildest Stocks Since 2011 Left Liquidity Void in U.S. Options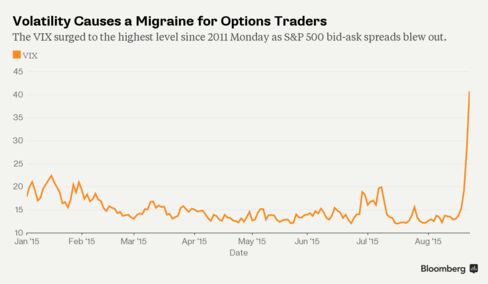 The headaches that plagued U.S. stock investors Monday were more like migraines in the options market.
With regulation and risk limits crimping the market-making role of big U.S. banks, traders are relying more on automated and high-frequency firms to keep trading lubricated. Liquidity was at a premium when the wildest markets in four years threw off bid-ask spreads and inflated options costs.
"When you have this degree of volatility, market makers widen out and get small because they don't want to commit capital," said Jim Strugger, a derivatives strategist at MKM Holdings LLC in Stamford, Connecticut. "People's jaws drop and they stare. Part of it is volatility. The other part is liquidity."
Options tied to the Standard & Poor's 500 Index illustrated the upheaval. One of the most-owned bearish contracts, puts that confer the right to sell futures on the index in September, saw spreads between buyers and sellers widen to $16 in the first minute of trading. They were $1 at that time of day a week ago.
Difficult Life
The S&P 500 lost 3.9 percent to 1,893.21 Monday, falling into a correction for the first time since 2011. At its worst, about $1.2 trillion of market value had been erased from U.S. shares.
At one point, the S&P 500 came within 34 points of setting off a marketwide circuit breaker that would've shut down trading for 15 minutes to restore order. The volatility made life difficult for anyone trading options, where the derivatives are typically priced off of movement in the underlying securities.
"Movement in the underlying shares was so nuts that one couldn't keep their options quotes up to speed with it," said Mark Sebastian, options trader and founder of Option Pit, a Chicago-based education and consulting firm. "When things are going that nutty, you can see it."
The S&P 500 slid 1.4 percent to 1,867.61 at 4 p.m. in New York, reversing an earlier gain of 2.9 percent.
Spreads on S&P 500 options, one of the most popular derivatives to use in hedging a stock portfolio, were so erratic that quoting was briefly halted on a gauge of market anxiety. The Chicago Board Options Exchange Volatility Index failed to update for about 30 minutes after the open of stock trading at 9:30 a.m., data sent to Bloomberg show.
Trading in the options from which the VIX is derived was too disjointed to calculate a value, its overseer said. Once the VIX opened, it jumped as much as 90 percent to 53.29. Later, as the market calmed down, spreads leveled out, with the volatility index closing up 45 percent to 40.74.
"During the first hour of trading, spreads were a lot wider as the market didn't seem to have a floor," said Jon Cherry, senior vice president of derivatives trading at Chicago-based TJM Institutional Services LLC. "We were seeing some S&P 500 options with $20 spreads. A little later, trading seemed methodical."
'Extraordinary Volatility'
On Monday, the cost of S&P 500 puts expiring Sept. 18 with a 2,000 strike price -- one of the most-owned S&P 500 contracts -- soared to $141 from $8.05 on August 17. The same phenomenon was evident in single-stock options. Spreads on the most-owned bearish contract on Apple Inc. were wider than $13 in the first minute of trading, when they were about 15 cents at the same point a week ago.
While the search for liquidity proved difficult at times, it didn't curb traders' interest in options as they rushed to keep up with market fluctuations. Total volume in S&P 500 options was more than double the 20-day average, while VIX contracts experienced a similar pop in trading.
"People are not providing the same liquidity in terms of depth of the quote and tightness of the market," said Steve Sosnick, an equity risk manager at Timber Hill, the market-making unit of Greenwich, Connecticut-based Interactive Brokers Group Inc. "We've been through a few days of extraordinary volatility. It would be fool-hardy to expect the type of markets that are available during periods of relative quiet."
Before it's here, it's on the Bloomberg Terminal.
LEARN MORE