China Anxiety Resurfaces to Torpedo Relief Rally in U.S. Stocks
Dow average erases gain of as much as 442 points in final hour

Bulls' hopes dashed after China cuts interest rates again
A rebound that took the Dow Jones Industrial Average up more than 440 points disappeared in the final hours of trading, with investors giving in to trepidation over what will happen overnight in China amid the most volatile equity markets in four years.
The 30-stock gauge ended down 204.91 points, or 1.3 percent, at 15,666.44 at 4:09 p.m. in New York, and 4 percent below its session high. The peak-to-trough retreat exceeded the loss at Monday's close, when concern about global growth ignited the worst decline for U.S. shares in four years. The Standard & Poor's 500 Index went from up 2.9 percent to down 1.4 percent, closing at 1,867.61 as most of the selling occurred after 2 p.m.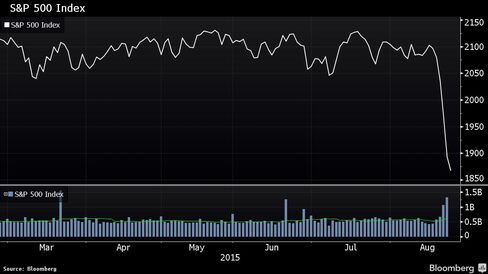 "People are nervous about the potential volatility that could erupt or resurface in the market," said Stephen Carl, principal and head equity trader at Williams Capital Group LP. "They're not sure what's going to happen overseas, and that uncertainty is winning out."
The unwinding disappointed bulls who earlier in the day staked hopes on China's efforts to inject stimulus into its economy. The central bank today cut interest rates for the fifth time since November and lowered the amount of cash banks must set aside in an attempt to stem the country's biggest stock market rout since 1996 and a deepening economic slowdown.
'Technical Damage'
More than $2 trillion has been erased from American equity values since last Wednesday, breaking a calm in a stock market that before this week had gone almost four years without a 10 percent correction.
"Investors are going to be keeping a keen eye on the Asian markets overnight and how they react to the rate cut," said Walter "Bucky" Hellwig, who helps manage $17 billion as a senior vice president at BB&T Wealth Management in Birmingham, Alabama. "The weak last hour in the market wasn't a good sign."
Stocks couldn't avoid plumbing Monday's depths in a chart phenomenon known as a retest, where the lowest levels of previous days starts to influence trader psychology. The S&P 500 has now lost 11 percent in five days, the worst stretch since August 2011, with a measure of market turbulence known as the VIX sitting at more than twice its average level for the past three years.
"There's still some technical damage that needs to be corrected, and there's still some selling that needs to take place," said Terry Morris, a senior equity manager who helps oversee about $2.8 billion at Wyomissing, Pennsylvania-based National Penn Investors Trust Co. "We're not just going to slingshot back up."
More Swings
Every industry in the S&P 500 ended with losses, with the biggest in utilities, phone companies, commodity shares and banks. About 10.4 billion shares traded hands on U.S. exchanges, 53 percent higher than the three-month average.
After a day of wild swings, the S&P 500 lost 3.9 percent Monday. That capped a 7 percent two-day retreat, the most since December 2008, sending the index into its first correction since 2011. JPMorgan Chase & Co. today recommended buying at these levels. The Chicago Board Options Exchange Volatility Index slid 12 percent Tuesday to 36.02. The VIX surged as much as 90 percent Monday to touch the highest level since January 2009 before closing at a nearly four-year high.
Investors continued to watch economic reports for clues on the timing of an interest-rate increase by the Federal Reserve. Data today showed purchases of new homes rebounded in July, bolstering signs the real-estate market is picking up. A separate report showed consumer confidence climbed more than forecast in August, reaching the second-highest level in eight years on more favorable views of the labor market.
Traders are now pricing in a roughly one-in-four chance the central bank will act at its September meeting, from about 48 percent just before the yuan devaluation, as the rout in equity markets has shaken confidence that the global economy will be strong enough to withstand higher U.S. rates.
Fed Bank of Atlanta President Dennis Lockhart said Monday he still expects a rate raise this year, while cautioning that a stronger dollar, a weaker Chinese yuan and falling oil prices complicate the outlook.


Before it's here, it's on the Bloomberg Terminal.
LEARN MORE