The FDA Says That Hampton Creek Can't Call Its Product "Mayonnaise"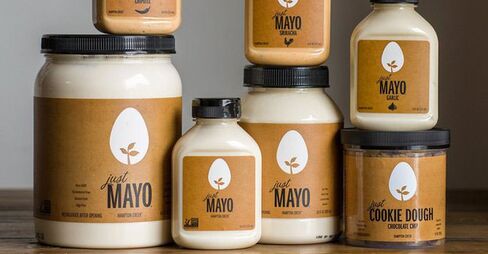 Just Mayo just isn't.
Hampton Creek Foods Inc., the healthy-food startup backed by investors including Bill Gates, can't refer to its vegan-friendly sandwich spread as mayonnaise because it doesn't have eggs in it, U.S. regulators said.
The company's Just Mayo and Just Mayo Sriracha also contain ingredients that "are not permitted by the standard of identity for mayonnaise, such as modified food starch," the Food and Drug Administration said in a warning letter to Hampton Creek, whose investors also include Silicon Valley luminaries Peter Thiel and Vinod Khosla. The letter was dated Aug. 12 and was posted online Tuesday.
"The use of the term 'mayo' in the product names and the image of an egg may be misleading to consumers because it may lead them to believe that the products are the standardized food, mayonnaise," the FDA said.
Hampton Creek Chief Executive Officer Josh Tetrick couldn't immediately be reached for comment. The San Francisco-based company calls itself "the world's fastest growing food company" and sells its products at stores run by Wal-Mart Stores Inc., Whole Foods Market Inc. and Target Corp. Tetrick has said Hampton Creek's mission is to make food healthier and more affordable. The company has raised $120 million in funding, including a $90 million round last December, according to CrunchBase. Hampton Creek also sells Just Cookies, which its website says are cholesterol free, all natural, sustainable and affordable.
Lawsuit Withdrawn
Unilever Plc, which makes Hellmann's mayonnaise, withdrew a lawsuit against Hampton Creek in December over the labeling of Just Mayo so the startup could work with regulators on the description of its products.
The FDA also said Hampton Creek can't claim its Just Mayo is cholesterol-free and make statements that imply the product is heart-healthy because there is too much fat in it to make health claims.
The FDA gave Hampton Creek 15 working days to respond to the letter.
Before it's here, it's on the Bloomberg Terminal.
LEARN MORE