How Mexico's Ricardo Salinas Lost Half of His Wealth This Year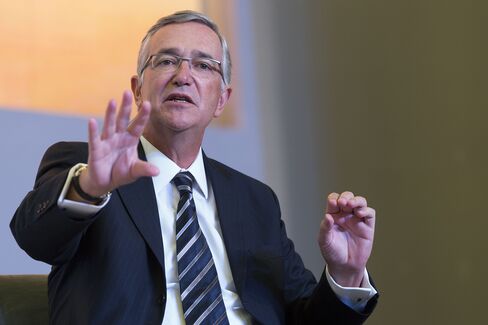 Mexico's Ricardo Salinas, whose deals propelled him to a net worth of $10.2 billion at the close of last year, is now watching his finances go into free fall. And that was before Monday's global market turmoil.
Prior to the selloff, Salinas' two biggest holdings -- broadcaster TV Azteca SAB, and retail and banking conglomerate Grupo Elektra SAB -- had lost a combined $5.9 billion since the start of the year. And to date, he's seen his fortune plummet 49 percent to $5.2 billion. He now ranks as the world's 260th richest person on Bloomberg's Billionaire Index -- down from 113th at the end of 2014.
Even before the peso hit record lows and the government cut its growth forecast, Salinas' companies were facing other challenges. TV Azteca's sales fell last quarter amid a sluggish retail industry and as advertisers spent more on digital platforms than broadcast TV, according to Signum Research analyst Homero Ruiz. Through Friday, TV Azteca, which Salinas bought in 1993 to compete against Grupo Televisa SAB, had lost more than half of its value this year.
"There's clearly a lack of investor confidence in the company," Ruiz said in a phone interview from Mexico City. "I don't think we've seen the last of the drop for Azteca; margins will continue to fall. It's a critical situation for a media company."
Meanwhile, Elektra's shares reached an 8-year low this week. Even with an increase in retail sales, the company's banking unit -- Banco Azteca, which represents about two thirds of its operations -- is weighing down the stock's performance this year, said Francisco Guzman, an analyst at Interacciones Casa de Bolsa SA.
Salinas and his family hold 73 percent of Elektra's shares and 65 percent of TV Azteca's. A Grupo Salinas press official said the company doesn't comment on its share prices and declined to comment on other company matters.
Dim Outlook
Salinas isn't the only Mexican billionaire having a bad year. Carlos Slim, the world's fourth-richest person, has lost about $15.4 billion in 2015 as a collapse in gold prices takes down his mining company, Minera Frisco SAB, and his telephone behemoth, America Movil SAB, continues to suffer from losses in the peso and changes wrought by a regulator. On Monday, the peso slid 1.2 percent to 17.2011 per dollar, weakening beyond 17 for the first time since its 1993 revaluation.
The economic outlook isn't getting better, either. While Mexico's retail sales and consumer credit gains helped fuel a moderate expansion in the first half, the central bank lowered its 2015 growth forecast this month, citing a decline in oil production.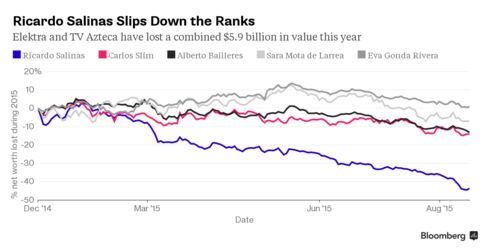 Investors cheered when Salinas ended a dispute that threatened to eject Elektra from Mexico's benchmark index at the end of October. A month later, he announced the sale of his mobile phone operator to AT&T Inc. for $2.5 billion.
This year, investors are concerned about high rates of delinquency at Banco Azteca, said Interacciones' Guzman.
In June, Banco Azteca's delinquency rate was 9.1 percent, which compares with a 3 percent average for banks, according to the latest data from Mexico's banking regulator.
"In terms of why the numbers for Elektra have been so bad, much of this is due to the financial sector," Guzman said in an interview from Mexico City. "Once they clean up their loan portfolio, and we start to see growth, then we'll see a reaction from the stock market."
Before it's here, it's on the Bloomberg Terminal.
LEARN MORE