Chinese Stocks Crash Again to Extend Biggest Plunge Since 1996
Chinese shares plummeted to extend the steepest four-day rout since 1996 on concern the government is abandoning market support measures.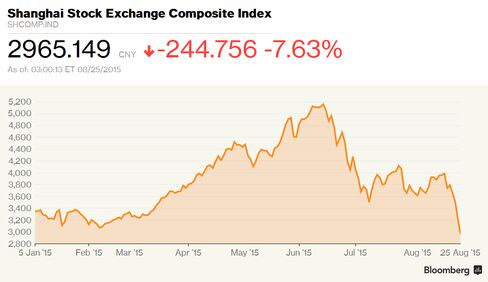 The Shanghai Composite Index tumbled 7.6 percent to 2,964.97 at the close, sinking below the 3,000 level for the first time in eight months. The gauge has dropped 22 percent in four days since Aug. 19. More than 700 stocks fell by the 10 percent daily limit in Shanghai on Tuesday, including PetroChina Co., the nation's biggest company by value. Hours after the market closed, the central bank cut interest rates and lowered the amount of cash banks must set aside.
Speculation around the government's intentions has escalated since Aug. 14, after China's securities regulator signaled authorities will pare back the campaign to prop up share prices as volatility falls. The China Securities Regulatory Commission made no attempt to reassure investors after Monday's plunge, unlike a month ago when officials issued two statements shortly after an 8.5 percent drop.
"It's panic selling and an issue of confidence," said Wei Wei, an analyst at Huaxi Securities Co. in Shanghai. "The government won't step in to rescue the market again as it's a global sell-off and it's spreading everywhere now. It's not going to work this time."
Tuesday's drop is the seventh decline of more than 6 percent for the benchmark gauge in the past three months.
The CSI 300 Index declined 7.1 percent, with gauges of energy, technology and material companies sinking more than 8 percent. PetroChina, long considered a favorite holding of state-linked rescue funds, closed at its lowest level since December.
1987 Crash
The Hang Seng Index rebounded 0.7 percent after a gauge of price momentum dropped to the lowest level since the October 1987 stock-market crash. The Hang Seng China Enterprises Index lost 0.9 percent to the lowest close since March 2014.
Unprecedented government intervention has failed to stop a more than $4.5 trillion rout in mainland equities since June 12 amid concern the slowdown in the world's second-largest economy is deepening. Officials have armed a state agency with more than $400 billion to purchase stocks, banned selling by major shareholders and told state-owned companies to buy equities.
When the Shanghai Composite tumbled 8.5 percent on July 27, the regulator issued statements shortly after the market closed saying it would probe the sell-off and underlining the government's commitment to supporting equities. The CSRC hasn't made any statements since Monday's tumble.
"The regulator probably thinks the market slump this time hasn't impacted the broader financial system, or they think the situation is still controllable," said Xue Hexiang, a senior strategist of Huatai Securities Co.
State Support
China has halted intervention in the stock market so far this week as policy makers debate the merits of the government campaign to prop up share prices, according to people familiar with situation.
On Aug. 14, the regulator said China Securities Finance Corp., the state agency tasked with supporting share prices, would no longer add to holdings unless there's unusual volatility and systemic risk, although it would remain in the stock market for years to come.
Officials should wind down the stock market support program even if prices continue to decline, according to a front-page commentary in the state-run Economic Information Daily on Tuesday.
Some 17 percent of listed shares traded on mainland bourses were halted from trading Tuesday, little changed from Monday. About 40 percent were suspended during the depths of last month's rout.
Stock Valuations
Industrial & Commercial Bank of China Ltd., the nation's second largest company, fell 5.1 percent in an 11th day of declines. Agricultural Bank of China Ltd. slid 9 percent. Futures on the CSI 300 sank by the 10 percent daily limit.
The intervention sparked concern among Chinese traders that the government was trying to shore up the market at levels unjustified by weaker economic outlook. Stocks on mainland bourses traded at a median 61 times reported earnings on Friday, according to data compiled by Bloomberg. That's the most among the 10 largest markets and more than three times the 19 multiple for the Standard & Poor's 500 Index.
China's economic growth slowed to 6.6 percent in July, according to Bloomberg's monthly GDP tracker. The nation's first major economic indicator for August signaled a further deterioration as a private manufacturing index fell to the lowest level in six years.
Interest Rates
"We believe that Chinese policy makers have many tools to address the slowing economy," said Michelle Leung, chief executive officer of Xingtai Capital Management Ltd. in Hong Kong. "There is a political debate over which tools to use."
The one-year lending rate will drop by 25 basis points to 4.6 percent effective Wednesday, the People's Bank of China said on its website. The one-year deposit rate will fall by 25 basis points to 1.75 percent.
The central bank added the most funds to the financial system in open-market operations since February on Tuesday as currency-market intervention to prop up the yuan strained the supply of cash.
For more, read this QuickTake: China's Managed Markets
The People's Bank of China auctioned 150 billion yuan ($23.4 billion) of seven-day reverse-repurchase agreements, according to traders at primary dealers required to bid at the auctions. That compares with 120 billion yuan maturing Tuesday, which leaves a net injection of 30 billion yuan.
(A previous version of the story was corrected to fix the scope of central bank injections.)
— With assistance by Shidong Zhang
Before it's here, it's on the Bloomberg Terminal.
LEARN MORE