Apple Watch Primed for Mainstream Appeal With Best Buy Rollout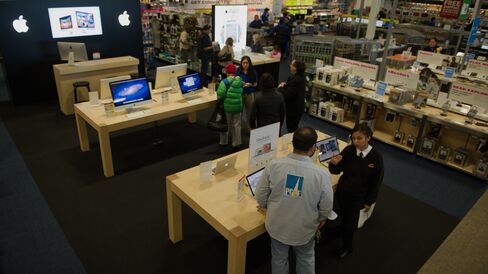 So much for the Apple Watch being a niche product. Best Buy Co., at least, is convinced that the high-tech gadget has mass appeal.
The retailer is the world's largest electronics chain, earning the designation by selling mainstream products like laptops and flat-screen television sets. On Tuesday, Best Buy said it would expand distribution of Apple Inc.'s product 10-fold after demand exceeded expectations.
The device will be available in 900 stores on Sept. 4 and all 1,047 of Best Buy's U.S. big-box stores by the end of next month. The chain began offering the watch -- offering models for between $349 and $700 -- less than three weeks ago on its website and at 100 locations.
"It has performed so well that, together with Apple, we've decided to roll it out," Best Buy Chief Executive Officer Hubert Joly said in an interview after the chain reported second-quarter earnings.
Apple hasn't broken out sales of the watch, which debuted in April. The company may have sold 1.9 million watches in the quarter through June, according to a calculation by Bloomberg using estimates for the average selling price. By comparison, the company shipped 1.39 million iPhones and 3.27 million iPads in their first three months on sale. An Apple representative declined to comment for this story.
How the watch sells nationwide at Best Buy may help determine if the device becomes a mainstay in Apple's lineup. Some investors have doubted whether Apple will be able to keep making hit products like the iPhone and iPad to maintain its growth.
'Big Deal'
The broader rollout of the watch is part of Best Buy's plan to give more space to Apple's products. The retailer has been revamping its 740 Apple departments -- known as stores-in-stores -- with tech giant's financial help. Best Buy, which is based in Richfield, Minnesota, expects to have 520 upgraded by the holiday-shopping season. The redesign includes new fixtures and additional display tables, giving Best Buy more space to sell watches.
Having the Apple Watch "in all 1,000 stores by the end of September is a big deal for us," Best Buy Chief Financial Officer Sharon McCollam said on a conference call with analysts.
Best Buy also will begin selling AppleCare warranties later this year and will become an authorized service provider for Apple products, testing the offering in 50 stores by the holidays.
Since Joly took the reins almost three years ago, a key element to turning around the once-troubled chain has been strengthening partnerships with vendors such as Apple, Sony Corp. and Samsung Electronics Co. The brands have helped revamp Best Buy's stores by investing in their dedicated departments.
Best Buy became a test ground last year for whether ultra-high-definition televisions will go mainstream. The retailer worked with Sony and Samsung to build home-theater stores-in-stores for each brand, using the so-called 4K television as the centerpiece.
For more, read this QuickTake: An App Up Your Sleeve
Before it's here, it's on the Bloomberg Terminal.
LEARN MORE