$100 Billion ATP Fund Says `Massive' Rout Shows Bonds Decoupling
The chief executive officer of Denmark's biggest pension fund says Monday's global stock market selloff is the latest example of a decoupling between bonds and equities.
Carsten Stendevad, who oversees more than $100 billion in assets as CEO of ATP, says the changed relationship between the two asset classes is making it much harder to diversify portfolios.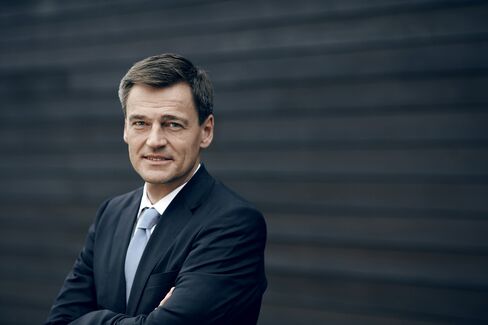 "It's not normal that we have a massive event in equity markets that triggers such a small response in bond markets," he said in an interview on Tuesday.
"There may be a number of plausible explanations for this, including reduced bond market liquidity," Stendevad said. "But the essential point is that we have to pay a lot of attention to the fact that historical trading patterns won't necessarily hold up."
The Stoxx Europe 600 index sank as much as 8.1 percent on Monday, its biggest single-day loss since October 2008. Germany's 10-year benchmark bond was little changed on the day, with the yield rising three basis points to 0.59 percent. The yield on the 10-year U.S. Treasury bond stayed at 2 percent.
"Usually, dramatic changes in equity markets, as we've seen in recent days, cause a response in bond markets, but that hasn't happened," Stendevad said. "Over the past year, we have seen a number of instances where usual historical patterns didn't hold up. In the spring, we saw substantial interest-rate moves but with little corresponding equity market response. Similarly the U.S. Treasury flash crash had little effect on equity markets."
According to Goldman Sachs, bonds are sitting out the worst of the market volatility that followed China's decision to devalue the yuan. JPMorgan Asset Management Inc. says the key variable is the inflation outlook, which is becoming more supportive and will restrict yield increases.
Stendevad said ATP doesn't expect inflation to change significantly short-term, even though the fund profited in the first half on insurance contracts designed to hedge against rising prices.
ATP made a 12 percent return on its investment portfolio in the first half of 2015. The biggest gain came from equities, followed by increases in the value of its inflation and credit portfolios, it said on Tuesday.
"Equity markets have not paid attention to the chaos in credit markets," Timothy Doubek, who helps manage $26 billion in corporate debt at Columbia Threadneedle Investment, said in an e-mailed comment. "Government bonds may not even be a market anymore, given the dominance of policy makers in those securities."
Stendevad says much of ATP's focus now is on adjusting its diversification model to ensure the fund isn't overlooking risks in asset classes that traditionally have hedged against each other.
"This effort has become all the more relevant in a market environment where one worries about whether different asset classes in reality have less diversification, or share more risk factors, than many traditionally have thought," he said.
Before it's here, it's on the Bloomberg Terminal.
LEARN MORE