China-Fueled Stock Rout May Delay Osborne's Lloyds Exit Program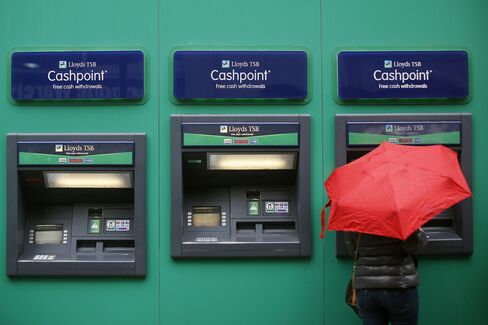 The global stock sell-off may force Chancellor of the Exchequer George Osborne to pause plans to sell the British government's stake in Lloyds Banking Group Plc.
On Monday, the shares dipped below the minimum price at which the Treasury has said it will sell its remaining stock to investors. Speaking after the government announced it had sold 550 million pounds ($865 million) of shares in the bank, Osborne said he plans to sell the U.K.'s remaining 13 percent stake in Lloyds within 12 months.
The stock fell as much as 4.8 percent to 72.18 pence in London today, below the 73.6 pence which the government paid when it bailed out the lender during the financial crisis. Since December, the government has been selling small batches of shares to investors to reduce its holding from 25 percent.
"An absolute minimum price of 73.6 pence has been established for the ongoing 'drip' sales, which suggests the possibility of a pause in sales if market conditions deteriorate further," said Ian Gordon, an analyst at Investec Plc in London, who has a hold rating on the stock. "This would, I believe, be entirely sensible."
A stock rout is spreading through Europe, wiping more than $5 trillion from global equity markets, after Chinese shares tumbled the most since 2007, commodities fell to a 16-year low and emerging-market currencies weakened to a record. Against this backdrop, Osborne is seeking to return Lloyds to full private ownership after the government spent 20.5 billion pounds rescuing the lender in 2008.
'Moving Quickly'
The shares pared their earlier losses to trade 1.8 percent lower at 74.48 pence as of 12:50 p.m. in London. The stock is still down 15 percent in the past three months.
"We have been moving quickly to come out of Lloyds and I hope that the process will be completed in a year," Osborne told reporters in Helsinki. "I don't believe that going on holding these big government stakes is going to do anything good for the taxpayer or banking system -- indeed far from it. We need to move out of these banks so they can compete."
Since December, Osborne has recouped 14.5 billion pounds from Lloyds. Osborne also sold an initial 2.1 billion pounds of Royal Bank of Scotland Group Plc on Aug. 4, the first sale since RBS received the world's largest bank bailout.
"As to RBS, we hope to make future sales in the coming year," Osborne said. "But we will wait -- it's not going to happen in the next day or two."
Officials at the Treasury didn't immediately respond to a request for comment, while an official at UK Financial Investments Ltd., which manages the Treasury's holdings in banks, declined to comment on the trading plan.
Before it's here, it's on the Bloomberg Terminal.
LEARN MORE