Stock Trading in U.S. Will Pause If S&P 500 Plunges 7%
If U.S. stocks extend their losses, traders will get a moment to catch their breath.
The thousands of companies listed by the New York Stock Exchange and Nasdaq Stock Market will pause for 15 minutes if the Standard & Poor's 500 Index plunges 7 percent before 3:25 p.m. New York time. The benchmark got close earlier, falling as much as 5.3 percent.
Market-wide circuit breakers were installed after the 1987 crash to prevent losses from snowballing. The levels that trigger a halt have varied over the years, with a rule change in 2013 lowering the threshold to 7 percent.
The S&P 500 pared its drop to 2.5 percent at 11:38 a.m. New York time on Monday, slumping to 1,921.22. It would take a retreat to 1,832.92 to initiate the automatic pause today, according to NYSE spokeswoman Sara Rich.
Another circuit breaker kicks in if the S&P 500 extends its losses to 13 percent before 3:25 p.m. If the plunge reaches 20 percent at any point during today's session, the entire stock market will shut for the rest of the day.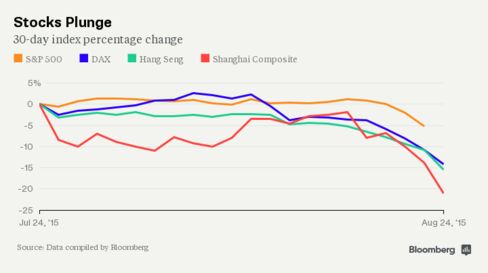 Before it's here, it's on the Bloomberg Terminal.
LEARN MORE