Iron Billionaire Mauls 'Market Vandalism' as Rio Tinto Hits Back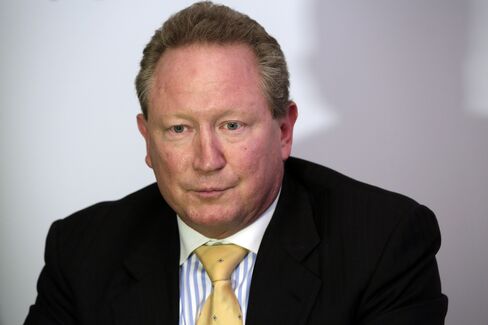 Iron ore prices collapsed this year as the biggest miners committed market vandalism by overproducing, according to Fortescue Metals Group Ltd. Rio Tinto Group fired a salvo in response, saying the analysis is overblown.
"The logic that you keep expanding just because you can squeeze an extra ton out of your machines, applies well to mining juniors," Chairman Andrew Forrest said in a commentary on Monday as the company reported a slump in full-year profit. But it "is market vandalism and self-harm when industry leaders do it," he said, without identifying any companies.
Iron ore sank last month to the lowest in at least six years as Rio Tinto and BHP Billiton Ltd. in Australia and Brazil's Vale SA boosted cheap supply, betting higher volumes would offset lower prices. Fortescue will hold volumes steady this year, although it was ready to expand if demand revived, according to Forrest. Rio said Monday that Forrest's remarks about the market were inconsistent, while BHP declined to comment.
"Iron ore is inelastic in demand," Forrest said using a term that suggests consumption doesn't change with price. Once users' demand has been met, "any further product offering will see the price collapse. We have seen that this year."
Ore with 62 percent content has slumped 25 percent this year to $53.28 a dry metric ton by Monday, according to Metal Bulletin Ltd., as demand growth stalled in China, the largest buyer. The commodity bottomed at $44.59 on July 8, a record in data going back to May 2009. Prices may lose a further 30 percent over the next 18 months, according to Goldman Sachs Group Inc.
'Above and Beyond'
Fortescue's "claims about the global iron ore market have been consistently overblown and inconsistent," Rio said in a statement in response to Forrest's comments. The miner "has attacked its competitors for increasing production while ramping up output above and beyond all other Pilbara producers."
Iron ore has retreated this year in line with raw materials from crude oil to copper amid concern that China's slowdown will undermine demand, spurring gluts. The Bloomberg Commodity Index sank on Monday to the lowest level in 16 years.
Fortescue reported net income plunged 88 percent in the year to June 30, missing the average of 12 analysts' estimates compiled by Bloomberg. Australia's third-largest exporter raised shipments from its Pilbara mines to 165 million tons in the last year from 28 million tons in 2009.
Walsh's View
BHP and Rio have this year defended their strategy of expanding into an oversupplied market. Alan Chirgwin, iron ore marketing vice president at BHP, said in May the miner's strategy was rational. Rio's Sam Walsh said in February that if it cut output, forfeited supply would be made up by others.
Forrest's critique carried echoes of remarks from Ivan Glasenberg, head of commodity supplier and trader Glencore Plc. Oversupplying markets regardless of demand is damaging the industry's credibility, Glasenberg said earlier this year.
Fortescue shares sank 15 percent to A$1.635 in Sydney, the lowest close since 2008, as commodities and equity markets in Asia were routed. In London, BHP fell as much as 6.2 percent, and Rio dropped as much as 6.4 percent.
"While we too can make good money on incremental expansion tons, we fail to see any logic in doing so when we lower the value for all our tons," Forrest said. "When the market turns and does require additional iron ore, we will be there."
Before it's here, it's on the Bloomberg Terminal.
LEARN MORE