Federer Tops Djokovic, Regains No. 2 Spot With Attacking Play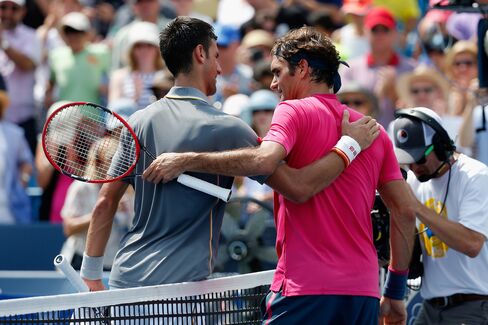 Roger Federer defeated top-ranked Novak Djokovic in the finals of the Cincinnati Masters to reclaim the No. 2 tennis ranking with old-style attacking play.
What started as a joke in training with his Swedish coach Stefan Edberg has become a new tactic for Federer: the return approach. Against Djokovic, Federer rushed to the net off a second serve 11 times, winning seven points as he surprised the reigning Wimbledon and Australian Open winner with a combination of half volleys and drop shots. At times, Federer stood almost on top of the service box to take the ball immediately after the bounce and charge forward.
"I moved well," Federer told reporters after he beat the Serb 7-6 (6-1), 6-3. "I was explosive moving forward. Volleys were good. I think from the baseline I was hitting my forehand very well."
Federer's new strategy "completely robs the server of time to prepare for the first shot after the serve," Craig O'Shannessy, lead statistician on the men's and women's tennis tours, said on the ATP World Tour website. "The net may seem old school, but it's the new black at the pinnacle of our sport."
Federer, who turned 34 this month, took a five-week break following his defeat in the Wimbledon finals to recover and train at home in Switzerland.
His seventh Cincinnati crown means he leapfrogged Andy Murray of Britain in the rankings and will be seeded second at next week's U.S. Open in New York. Federer won the last of five New York titles in 2008.
"Now I've got the confidence, I've got the matches, and I'm actually still feeling really fresh even after this week, because the matches have been rather short," Federer said.
The rest of the men's top 10 remains unchanged, with Djokovic at No. 1, U.S. Open finalist Kei Nishikori of Japan No. 4 and two-time U.S. Open winner Rafael Nadal of Spain No. 8.
Williams Wins
Serena Williams, one major victory away from the first calendar-year grand slam of all majors since Steffi Graf in 1988, remains No. 1 on the women's tour.
The 33-year-old American overcame Romania's Simona Halep in the finals of Cincinnati, 6-3, 7-6 (7-5) Sunday for a tour-leading fifth title this season and 69th overall. Halep moved up one place to No. 2, pushing five-time major winner Maria Sharapova of Russia to No. 3. Denmark's Caroline Wozniacki, a runner-up in New York last year to Williams, climbed one spot to No. 4.
Before it's here, it's on the Bloomberg Terminal.
LEARN MORE