Emerging Assets Dealt Violent Blow in Worst Stock Run Since 2011
Investors withdrew $1.9 billion from U.S. ETFs last week

Hedging costs on emerging-market stocks jump most on record
The panic gripping emerging-market investors took a turn for the worse on Monday as Chinese equities fell the most since 2007, sending shockwaves across developing countries from the Philippines to South Africa.
The Shanghai Composite Index slid 8.5 percent as concern mounted that China's economic slump is deepening and government measures to stop it will fail. A further slowing of growth in the world's second-largest economy would undermine demand for commodities and curtail imports from countries including Brazil, South Africa and Russia -- all of which count China as their biggest trading partner.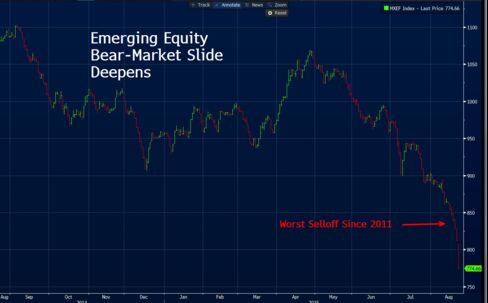 As oil plunged toward $40 a barrel in London, Saudi Arabian stocks fell deeper into a bear market, the South African rand weakened to an all-time low and the ruble surpassed 70 to the dollar for the first time since February. Political turmoil in Turkey and Malaysia has added to the negative sentiment weighing on developing countries as investors assessed the prospect for higher U.S. interest rates.
"We are seeing a massive reaction all across emerging- and developed- countries," said Quincy Krosby, a market strategist for Newark, New Jersey-based Prudential Financial Inc., which oversees more than $1 trillion. "When you have this global risk off, developing equities are the ones to suffer the most."
Red Everywhere
Equities in Vietnam, India, the Philippines, Saudi Arabia and Poland dropped at least 5.3 percent, while Brazil's Ibovespa lost 3 percent in Sao Paulo. The MSCI Emerging Markets Index fell 5 percent to 771.77 in New York, the most since September 2011 and bringing its seven-day retreat to 11 percent.
The rout triggered a record jump in a gauge of options prices on developing-nation stocks as investors purchased contracts to protect against future declines. The CBOE Emerging Markets ETF Volatility Index rose 66 percent to an almost four-year high of 55.17 after more than tripling at the start of trading in New York.
A gauge tracking 20 of the most-traded currencies depreciated 0.7 percent to a record low. The rand sank to as weak as 14.0672 per dollar, before trimming losses to 13.2334, down 2 percent. South African assets are under pressure as the price of export products from platinum to iron ore retreats.
The ruble weakened 2.5 percent to 70.9000 per dollar, a level it hadn't reached since Jan. 30, when the central bank started a cycle of interest-rate cuts. ING Groep NV said the ruble may drop to 75 per dollar if oil falls to $40.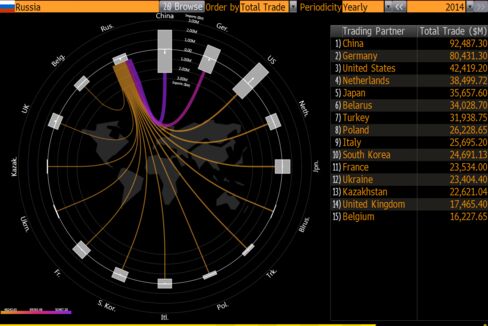 Concern over Russia's ability to cope with crude prices that have lost a third of their value in the past three months is exacerbating outflows. The country, which derives about 50 percent of revenue from oil and gas industries, is also under sanctions from the U.S. and Europe over its role in the conflict in Ukraine.
"There is every chance we go lower in the coming weeks" in emerging markets, Nathan Griffiths, a senior emerging-market equities manager who helps oversee about $1.2 billion at NN Investment Partners in The Hague, said by e-mail. "There is the risk we start to see significant outflows as investors protect capital."
Saudi Arabian shares slid 5.9 percent, Brazil's real slumped 1.5 percent and Malaysia's ringgit also suffered from the rout in crude, with the currency plunging to another 1998 low against the dollar. The energy drop coincides with a political scandal involving Prime Minister Najib Razak.
Turkish assets, which would benefit from the slide in oil since the country is a net fuel importer, are falling due to security concerns and after the collapse of talks for a coalition government necessitated a call for a second election. The lira weakened 0.8 percent to 2.9422 per dollar, after crossing 3 to the dollar for the first time ever last week.
$5 Trillion
Monday's slide happened after China said over the weekend it will allow pension funds to buy shares for the first time, while a speculated cut in bank reserve ratios failed to materialize.
More than $5 trillion have been wiped from the value of global stocks since China's shock devaluation of the yuan two weeks ago. Investors withdrew $1.9 billion from U.S. exchange-traded funds that invest in emerging-market stocks and bonds last week as gauges in Taiwan, Brazil and Indonesia entered bear markets.
The selloff pushed valuations for equities on the MSCI Emerging Markets Index to 10 times projected 12-month earnings, the lowest since March 2014.
"This is a real disaster and it seems nothing can stop it," Chen Gang, Shanghai-based chief investment officer at Heqitongyi Asset Management Co.
Before it's here, it's on the Bloomberg Terminal.
LEARN MORE