Corbyn Threatens Cameron Plan to Bomb Islamic State in Syria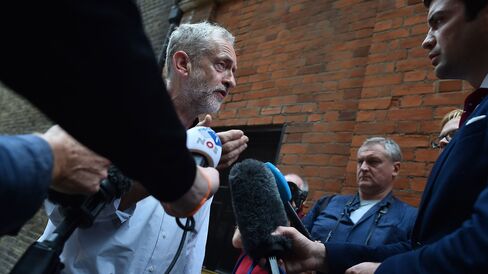 Prime Minister David Cameron may be forced to drop plans to expand U.K. military operations against Islamic State into Syria if the opposition Labour Party elects the anti-war campaigner Jeremy Corbyn as its next leader.
Cameron last year secured Parliament's approval to bomb the group, also known as ISIL, in Iraq, without requesting permission to attack targets in Syria because of a lack of political agreement from Labour and within his own coalition government. Having won a majority in May elections, he had planned to return to the issue once Labour had elected a leader.
"The prime minister has been clear and his view hasn't changed on this," Cameron's spokeswoman, Helen Bower, told reporters in London on Monday. "He thinks there is a case for taking further action against ISIL in Syria, but he would prefer to proceed in a consensual way."
Syria is one area where Corbyn as head of the opposition may be able to influence U.K. government policy. More broadly, it's not clear if he'll even enjoy the support of Labour lawmakers, after some said they'd refuse to work with him because of his program and other senior party figures warned that a Corbyn leadership could destroy the party.
Corbyn was one of the founders of the Stop The War group, set up in 2001 to campaign against the war in Afghanistan, and has a steady record of opposing military action. He also advocates Britain's withdrawal from NATO.
Labour Justification
Corbyn's line on Syria may strike a chord with Labour lawmakers and the country, Andrew Russell, head of politics at Manchester University, said in an interview. "If he manages to take the Labour party with him, with a very small majority of 12 it's very easy to see how the Conservatives could fail" to push through a vote on extending the campaign, he said.
While Cameron's Conservatives could press for a vote on action with the goal of exposing splits within Labour, there's a risk it would expose divisions on the Tory side as well. In 2013, 30 Tories voted against a bombing campaign in Syria that would have targeted President Bashar Al-Assad's forces, helping to make Cameron the first prime minister in over a century to lose a vote on foreign policy.
Corbyn, 66, is favorite with bookmakers and pollsters to become Labour leader when the results of the party leadership are announced on Sept. 12. The latest YouGov Plc survey shows him polling 32 points ahead of his closest rival, Andy Burnham.
Before it's here, it's on the Bloomberg Terminal.
LEARN MORE