Citic's Black Monday Shows Its Challenge to UBS May Be Over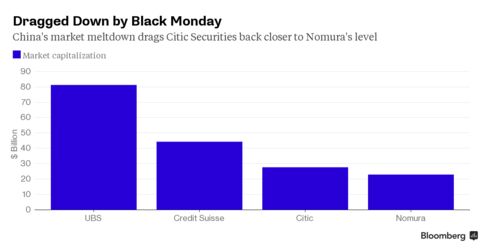 China's stock-market collapse has put an abrupt end to Citic Securities Co.'s ascent among the world's biggest brokerages by market capitalization.
Less than eight months ago, Citic came close to matching Switzerland's UBS Group AG. Now, after a halving of Citic's value to $27.5 billion, the Chinese firm is sinking closer to Japan's Nomura Holdings Inc. Catching up with UBS at $81.3 billion once more looks like a distant prospect.
In Shanghai, Citic plunged by the 10 percent limit on what Chinese media called Black Monday then followed up with a slide of the same size on Tuesday. In Hong Kong the stock slumped as much as 17 percent on Monday, the biggest intraday drop on record, as a wave of selling gripped markets worldwide.
Once powered by a world-beating equities rally, Chinese securities firms are now undermined by a market reversal that the country's government has been powerless to stop. The brokerages are being hobbled by waning demand for margin finance, a freeze on initial public offerings and increasing risk of customer defaults.
The market crunch comes just when Chinese securities firms have been making forays abroad via moves such as Haitong Securities Co.'s acquisition of a Portugese investment bank, and partway through the industry's efforts to move to more sophisticated products and business models. The risk now is of a return to the years of torpor that followed the stock boom and bust of 2007 and 2008.
Shunned Stocks
In the long term, brokerages will benefit from government efforts to encourage companies to rely more on equity and debt financing and less on bank borrowing, said Chi Man Wong, an analyst at China Galaxy Securities Co. in Hong Kong. In the short term, sustained stock market declines would mean that "nobody will want to touch the sector," the analyst said.
The Shanghai Composite Index fell 8.5 percent on Monday, erasing its gains for the year, then slid another 7.6 percent on Tuesday. Outstanding margin loans by brokerages tumbled 40 percent from a June peak to 1.35 trillion yuan ($211 billion) as of Aug. 20. Looming ahead: the prospect of fiercer competition when banks are allowed to get brokerage licences.
The worst days for Chinese stocks since the 2007 and 2008 bust are coming just as brokerages have been reporting first-half profit gains measured in the hundreds of percent. On Friday, Huatai Securities Co. reported a 340 percent increase. GF Securities Co. posted an advance of more than 400 percent.
Citic's net income tripled, the company said after the market closed on Monday. During January of this year, the gap between Citic and UBS in market capitalization had narrowed to as little as $1.6 billion.
Now, says Chen Xingyu, a Shanghai-based analyst at Phillip Securities Research, it's a question of just how big the fallout from the market turmoil will be during the second half.
— With assistance by Aipeng Soo
Before it's here, it's on the Bloomberg Terminal.
LEARN MORE