Brussels Break-In Shines Light on Russia's European Mischief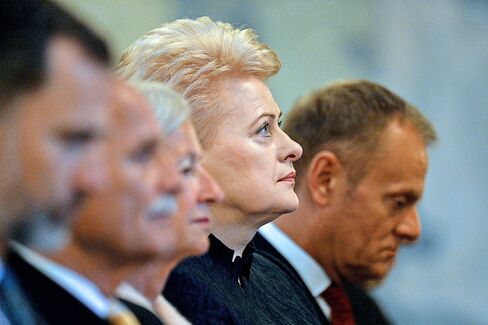 It was an unusual delivery at the European Parliament by a pair of native Russians.
They broke into the third-floor mailroom and deposited for the 751 legislators English-language copies of "Red Dalia," a scathing biography of Lithuanian President Dalia Grybauskaite, according to a parliamentary probe. The book, published after she accused Vladimir Putin of running a "terrorist state," alleged that she collaborated with the KGB during the Soviet era.
While no link to Putin has been established, critics such as Lithuanian lawmaker Antanas Guoga and defense analyst Jonathan Eyal, say the December episode represents an example of the Russian leader's mischief-making in Europe. It's part of a toolkit used by the KGB's 21st century successors combining propaganda and influence-peddling with more traditional tradecraft, they say.
"In Soviet intelligence, the goal was to destroy the western world and achieve global communism," Oleg Kalugin, 80, who ran a KGB spy network in the U.S. during the Cold War, said in an interview in Washington, where he's lived for two decades. "Russia now wants to be a military and economic power, but it has no desire to conquer the world."
Russia's interests in Brussels, represented by the 64 diplomats at its permanent mission, involve energy policy, pipeline politics and antitrust regulation, in addition to preventing a unified anti-Putin front within the 28-nation bloc and keeping tabs on NATO.
In the Brussels intrusion, the Russians gained access to the main part of the Altiero Spinelli building as guests of an employee of the Europe of Freedom and Direct Democracy group of anti-EU members of the parliament, according to a confidential report by the legislature's security directorate, a copy of which was obtained by Bloomberg.
"This smells very strongly of a Russian smear campaign," said Joerg Forbrig, a senior program director at the German Marshall Fund of the U.S. in Berlin.
Officials at Russia's permanent mission to the EU said they hadn't heard about the incident and declined to comment further. The EFDD said in a statement the break-in happened without the group's approval and that and the person responsible is no longer employed by them. The parliament's press service declined to comment.
Moscow Backing
Four European parties from the far right to the radical left -- France's National Front, the U.K. Independence Party, the Danish People's party and Greece's Syriza -- have expressed sympathy for Putin while finishing first in their national elections to the European Parliament last year.
Putin has worked to build bridges to governments in Greece, Cyprus and Hungary. One of Budapest's lawmakers in the EU Parliament, Bela Kovacs, is accused by Hungarian prosecutors of being a Russian spy, which he denies.
"If you look at almost every far-left or far-right organization in Europe today, the one unifying theme is that they all look up to Mr. Putin as a role model," Eyal, director of the London-based Royal United Services Institute for defense studies, or RUSI, said in an interview in London.
Putin has built an "enormous apparatus" across Europe in part because of the huge sums of money he's been showering on the spy services, according to Oleg Gordievsky, a former KGB colonel who spied for the U.K. from 1974 to 1985, when he was smuggled into Finland in the trunk of a car.
Defense, national security and law enforcement now eat up 34 percent of Russia's budget, more than double the level in 2010. The share of spending that's black -- authorized but not itemized -- has doubled in the period to 21 percent, or 3.2 trillion rubles ($50 billion), according to the Gaidar Institute, an independent research group in Moscow.
With more money and manpower, Russian operatives are becoming increasingly brazen, EU intelligence agencies say.
Sweden Vulnerable
Sweden's service, SAPO, says that Russia has deployed "hundreds" of spies on missions around Europe, including Stockholm, and that they operate across "a series of platforms," including consulting, media and travel.
Sweden is particularly vulnerable because it's not a member of NATO and so doesn't share in the alliance's mutual-defense pact. Russia warned the Scandinavian country against joining NATO in June, saying there'd be military "consequences." The country is one of at least six in Europe, along with Germany, Poland, the Czech Republic, Lithuania and Estonia, that has either arrested or expelled suspected Russian spies in the past 18 months.
The Czech Security Information Service, or BIS, said last October that Russia had sent an "extremely high" number of agents to Prague in search of information related to the EU, energy and NATO.
The North Atlantic Treaty Organization, formed by the U.S. and its allies in 1949 to keep Soviet dictator Josef Stalin in check, in April cut the number of Russian officials accredited to its Brussels headquarters in half, to 30, to limit their spying capabilities. That same month, U.S. Air Force General Philip Breedlove, NATO's top commander, told a Senate hearing that Russia's covert military intervention in eastern Ukraine underscored "critical gaps" in Western intelligence.
Europe should be alarmed, said Guoga, the Lithuanian whose complaint sparked the "Red Dalia" probe. "The Russians have influence on the right and left," Guoga said in a phone interview. "They have people everywhere. It's incredible."
Before it's here, it's on the Bloomberg Terminal.
LEARN MORE