Bond Issuers and Investors Are About to Find Out It's Not Easy Being Green(back-Denominated)
Deutsche Bank says emerging-market credit could be the next shoe to drop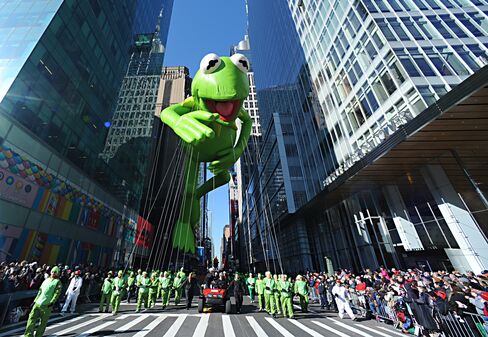 When green is all there is to be
It could make you wonder why, but why wonder?
—Kermit the Frog, Bein' Green (1970)
Years of low interest rates in the U.S. have encouraged emerging-market issuers to use the greenback for their borrowing needs.
Both EM countries and companies in emerging markets flocked to sell dollar-denominated debt, with the Bank for International Settlements estimating that total dollar borrowing could now stand at as much as $9 trillion.
Barclays analysts noted earlier this year that dollar borrowing has helped make the amount of EM hard-currency corporate bonds outstanding seven times larger than it was just a decade ago, outpacing growth in all other fixed-income asset classes. With the commodities complex now crumbling and the decline in EM currencies on the verge of surpassing that of the 1998 Asia financial crisis, it would seem natural to worry about how these bonds will fare in the face of two intense pressures.
Yet, as Deutsche Bank credit strategists Oleg Melentyev and Daniel Sorid point out in a new note, that has yet to happen.
Investors don't seem to be too worried about the twin trends, as evidenced by stubbornly low spreads on dollar-denominated bonds sold by companies such as Brazil's Vale, Mexico's Pemex, and Colombia's Ecopetrol. Such bonds are trading at 290 basis points, 230 bps, and 360 bps, respectively, indicating investors aren't yet demanding a large premium to hold the debt.
This, as Melentyev and Sorid point out, is a rather odd dynamic and one they don't think will last:
These are not levels that we would generally associate with any meaningful levels of distress at a time when underlying commodities and currencies are suggesting otherwise. In more general terms, a graph we are showing ... helps us visualize the levels of distress in credit markets globally by plotting the proportion of names that are trading at 1,000bp+ levels in high-yield, a customary threshold for defining distress. Here, the proportion stands at 21.4% for EM HY, compared to 17.2% in US HY. In our view, this difference is not nearly enough to reflect growing credit risks associated with EM, a market that has two times the weight in commodities compared to US (37% of EM HY index is represented by commodity producers vs 18% in the US).

Source: Deutsche Bank

In other words, we find reasons to believe that EM corporate credit could be the next shoe to fall in this risk-aversion episode. If this were to happen, we think EM credit spreads could widen out materially across the full credit spectrum, and given the size of that market – currently at around $1.2trln or comparable to the US HY – add incremental pressures on US credit and equities.
It's worth pausing here to reemphasize the slow creep of EM debt into the wider corporate bond market in recent times.
For years, yield-hungry investors seeking a pickup over extremely low spreads in U.S. corporate debt looked to EM bonds, and their relatively juicier spreads, to help meet return targets. On a risk-adjusted basis (i.e., factoring in crucial things like spread, duration, and total amount outstanding), EM bonds also appear to have become an outsized proportion of global corporate debt indexes. Barclays analysts estimated earlier this year that emerging markets' contribution to the bank's closely followed global high-yield index, for instance, had jumped from 28 percent in 2012 to 40 percent in 2015.
With commodities and EM FX now tanking, it seems the big dollar-borrowing binge could leave issuers and investors feeling green in a very different sort of way.
Before it's here, it's on the Bloomberg Terminal.
LEARN MORE