Norway's Richest Man Says He's 'Very Worried' About China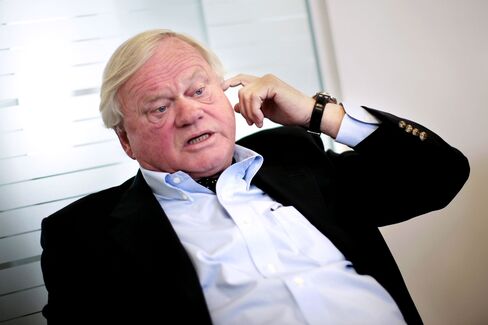 John Fredriksen, the billionaire who made his fortune investing in crude tankers, said he's "very worried" about the turmoil spreading from China and the potential fallout on global shipping markets.
"It seems there are big problems in China," Fredriksen said in an interview in Oslo on Monday. "That's at least not good for the shipping market."
More than $5 trillion has been erased from the value of stocks worldwide since China's surprise devaluation of the yuan Aug. 11, which deepened concerns over the state of the world's second-biggest economy. A global selloff in riskier assets intensified Monday as commodity prices sank to a 16-year low and emerging market currencies weakened.
Fredriksen, 71, has a net worth of $10.2 billion and owns assets from oil-drilling platforms to fish farms, according to data compiled by Bloomberg.
Oil touched the lowest levels since 2009 on Monday, below $43 a barrel.
"For our situation it's good for our tankers," he said. "But for our oil rigs it's negative."
The drilling rig market is facing lower demand from oil producers after crude prices collapsed last year. The decline in demand comes as new rigs enter the market, boosting oversupply after a decade of rising offshore investments.
"There will be a mega consolidation in the rig market," Fredriksen said. "It must happen, will happen. Within the next year there will be consolidation."
Fredriksen-controlled Frontline Ltd. and Seadrill Ltd. fell as much as 9 percent on Monday in Oslo trading. They both recovered in early trading Tuesday.
"Rig is very difficult because of the oil price and overcapacity," he said. "It doesn't look good right now."
Before it's here, it's on the Bloomberg Terminal.
LEARN MORE