Doha Bank Expects Record Gold Sales on Falling Stock Markets
Doha Bank QSC expects to sell a record 200 million riyals ($55 million) of gold this year as consumers take advantage of lower prices and investors seek a haven from falling equities and weakening currencies.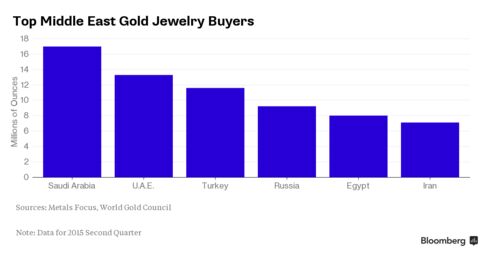 The bank, the first lender authorized to import and sell gold in Qatar, took in 23,818 ounces in the first seven months of 2015 compared with 15,830 ounces in the same period last year, Samuel K.V., head of treasury trading and product management, said in a phone interview from Doha Sunday. Sales were worth 110 million riyals in the 2015 period, he said.
China's stocks tumbled as much as 9 percent on Monday and Qatar's QE Index of shares slumped for a seventh day, the longest streak in two years. Brent oil below $45 for the first time since March 2009 raised concern about growth prospects in the Middle East. There is speculation the Federal Reserve will start to raise U.S. interest rates in December instead of next month, reviving demand for gold because the delay makes the metal more competitive with assets that pay dividends or yields.
"Gold remains a solid bet for the future," K.V. said. Demand is expected to rise due to the "big volatility in the Chinese stock market and currency" and the possibility of a delayed interest rate increase by the Fed.
Gold rose 0.3 percent to $1,164.10 an ounce on Monday after rallying 4.1 percent last week.
Low gold prices often trigger purchases of the precious metal in the Middle East and Asia, the World Gold Council said Aug. 13 when reporting that global gold demand slumped to a six-year low in the second quarter. Prices fell about 10 percent in the past year, and traded at a five-year low of $1,077.40 an ounce in July.
Demand for gold jewelry in the Middle East declined 20 percent and investment bar and coin consumption dropped 37 percent in the second quarter, the World Gold Council said. It cited an increased value added tax in Iran, lower oil prices and currency weakness. Oil has retreated 23 percent this year.
Before it's here, it's on the Bloomberg Terminal.
LEARN MORE