Venezuela Declares State of Emergency Near Colombian Border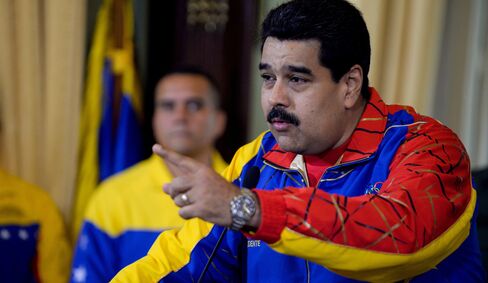 Venezuela's President Nicolas Maduro declared a state of emergency in an area bordering Colombia after an attack on Venezuelan soldiers who were conducting an anti-smuggling operation.
An additional 1,500 troops have been deployed in the affected part of Tachira state, Maduro said Friday evening. Existing closures of border crossings in the area will be extended indefinitely, he said.
"I will not open the border until these attacks on our economy from Colombia stop, I will not open it," Maduro said in a televised address Saturday. One of the busiest border crossings has been closed, with the state of emergency extending across five municipalities.
The move to beef up government forces came after three soldiers were injured in a shootout on Wednesday. Rampant smuggling is fueled by Venezuela's price controls and subsidies on gasoline and food, which offer opportunities for selling them at a higher price across the border.
An exodus of goods has worsened widespread shortages in Venezuela, with Maduro long alleging that foes of his socialist government are waging a campaign of "economic war" ahead of legislative elections scheduled for December. His critics say the nation's economic woes, including the world's highest inflation rate, are self-inflicted.
'Innocent People'
Colombian President Juan Manuel Santos slammed the closures on Saturday, saying they ultimately hurt people on both sides of the border, and he dispatched Interior Minister Juan Fernando Cristo to the area to meet those affected by the closing.
"Closing the border creates inconveniences, bad feelings, and lots of innocent people including children have to pay the price," he said in the city of Bucaramanga, El Tiempo newspaper reported.
Venezuela's and Colombia's foreign ministers are set to convene Wednesday to discuss the border issue. President Maduro also has demanded a "face to face" meeting with his Colombian counterpart.
Before it's here, it's on the Bloomberg Terminal.
LEARN MORE