Clash Blocks Refugees at Greek Frontier as EU Crisis Deepens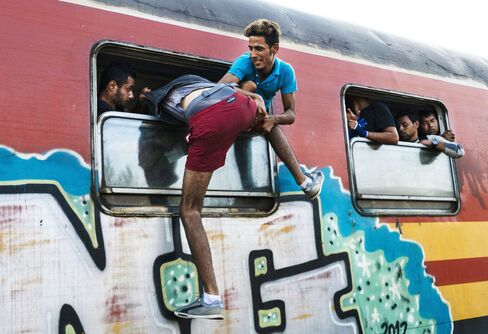 Macedonia deployed its army and police used stun grenades to stop thousands of migrants from entering the country via Greece, its Interior Ministry said, a day after declaring a state of emergency over Europe's immigration crisis.
Ten people were injured when police from the former Yugoslav republic tried to disperse a crowd of at least 3,000 migrants in no-man's land, according to Julia Kourafa, a communications officer for aid group Medecins Sans Frontieres. The situation is escalating, with more people arriving at the border each day, she said. Macedonia's Interior Ministry said its actions were in line with accepted measures.
"We have the right to protect our borders," ministry spokesman Ivo Kotevski said by phone from the capital Skopje. He confirmed the use of stun grenades. "We want to respect international conventions and human rights, but our capacities are limited, and no one is helping us," he said.
The clash underscores the spiraling migration crisis in Europe, which has failed to create a plan to deal with the hundreds of thousands of people streaming in from conflict zones in northern Africa and the Middle East. Southeastern Europe, including some former Yugoslav republics, has become a central transit route, igniting anti-immigrant sentiment in ex-communist countries to the north.
Aid Plea
Macedonian Prime Minister Nikola Gruevski spoke with his Serbian counterpart Aleksandar Vucic by phone on Friday about solving the crisis, the government in Skopje said on its website. Serbia has also had to deal with an influx of thousands of migrants who usually head further north and west to richer European Union countries.
Four people injured by stun grenades were hospitalized in Greece, Kourafa said. Macedonia let a first group of about 200 migrants, mainly women and children, cross the border at about 3:30 p.m., news service MIA reported, citing Kotevski. More will be allowed to cross later, he said.
"We don't know how the situation will unfold, as more people are arriving from the direction of Greece," Kourafa said. "Today there's double the number of people from yesterday."
Macedonia has appealed for help to Frontex, the EU border management agency, Kotevski said. More than 40,000 migrants have arrived in the country of 2 million people in the past two months. Kotevski said Greece had lowered controls and transported migrants to the frontier, and as many as 1,500 were trying to cross the border each day.
'Narrow-Minded Games'
At least 107,500 tried to enter the EU, which Macedonia wants to join, in July, Frontex said on Wednesday, triple the number from a year earlier.
Greece has struggled for months to deal with refugees traversing the narrow straits from Turkey to the Greek islands of Lesvos, Kos and Chios. Eight of 10 are from Syria and Afghanistan, according to the United Nations High Commissioner for Refugees. After Greece teetered on the brink of financial collapse in July, Prime Minister Alexis Tsipras called on the EU to help deal with migrants landing on the shores of the most troubled nation in Europe.
In neighboring Bulgaria, the government said it may send its army to its borders, while Czech Foreign Minister Lubomir Zaoralek and his Austrian counterpart Sebastian Kurz urged the EU to strengthen its external frontier and pay more attention to the Balkan route, they told reporters in Linz, Austria.
"These narrow-minded games won't work," Gerald Knaus, founder of the Berlin-based European Stability Initiative, said by phone. "We need a European-wide policy. All the countries should get together and bear their part of the burden."
'Xenophobic Outbursts'
The EU will contribute 8 million euros ($9 million) to help western Balkan countries and Turkey deal with the crisis, its executive commission said on Friday. In July, the bloc's members failed to agree on plans to accommodate 40,000 migrants as several EU countries refused to take part.
"The problem will get bigger and bigger," Dimitar Bechev, the chairman of the European Policy Institute in Sofia, said by phone. "I won't be surprised if at some point this results in xenophobic outbursts and is used by xenophobic parties."
That's already happening further north, as the growing number of predominantly Muslim refugees try to make their way to Germany and further west.
'Nobody Invited'
Hungary erected anti-immigrant billboards and said it started building a fence on its border with its southern neighbor Serbia earlier this year.
Slovakia's government said on Thursday it will accept 200 Syrian refugees, but only Christians. Interior Ministry spokesman Ivan Netik defended the decision by telling BBC News his country isn't equipped to handle Muslim migrants because it doesn't have any mosques.
In the neighboring Czech Republic, hundreds of refugees tried to break out of a camp at the end of July where they had been sent after being detained by police. More than 2,500 academics and politicians also signed a petition of protest to President Milos Zeman who, after demonstrators rallied around the country chanting violent anti-immigrant slogans and displaying a mock gallows, rejected accepting more refugees.
"Nobody invited you here," Zeman said in an online broadcast for Prague-based tabloid Blesk earlier this month. "If you are already here, you have to respect our rules. And if you don't like it, go away."
Before it's here, it's on the Bloomberg Terminal.
LEARN MORE