Santa Claus has been given a week to pay his creditors.
Finland's shrinking economy has hit Dianordia Oy, the company that offers kids from all over the world an opportunity to meet Santa Claus. Just four months before Christmas, the firm faces bankruptcy as it struggles to repay its debts.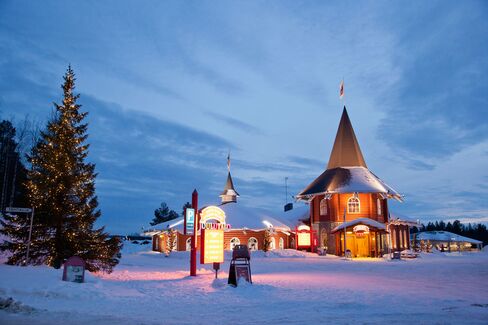 The problems started as tourists from Greece, Italy, Spain and then Russia stopped coming, Jarmo Kariniemi, chief executive officer of Dianordia Oy, which runs the Finnish Santa Claus office, said in a phone interview from Rovaniemi, close to the Arctic circle in Finnish Lapland.
"The state of the global economy makes a big difference to our business," Kariniemi said on Thursday. Most of the company's debts — about 200,000 euros ($223,660) — are owed to the tax man, he said.
Kariniemi says his company is "not yet bankrupt, and we are confident a solution will be found." The challenge is adjusting to the shifting revenue streams as various countries get hit by economic shocks, he said.
As news of the potential bankruptcy emerged, Santa's staff were were keen to stress the village was open for business as usual.
"Despite the current news, lets keep smiling and work for a better future. Tide will change, we have a week to turn this around," Santa's Helpers posted on Facebook on Thursday.
https://www.facebook.com/SantaClausOffice/photos/a.418737671528543.89996.415068465228797/861900527212253/?type=1&theater
Santa's plight is the latest example of Finnish businesses fighting to survive the decline of a euro nation that spent the debt crisis trumpeting the wisdom of austerity. Moody's Investors Service now says Finland faces a fourth year of economic contraction, imperiling its Aaa rating. Standard & Poor's stripped Finland of its top credit grade in October.
https://instagram.com/p/gkm-EUM5QV/?taken-by=santaclausoffice
Prime Minister Juha Sipila says the only way for Finland to reboot is for production costs to drop. Labor unions have already rejected his proposed pay cuts, and the two sides have so far been unable to find a compromise.
Unit labor costs in Finland are as much as 20 percent higher than those of its main trading partners, including Germany. Finland's euro membership means it can't rely on a weaker currency to help close that gap. Unemployment has held at, or above, 10 percent for the past five months.
Meanwhile, companies are continuing to falter. After watching the demise of a consumer electronics industry once led by Nokia Oyj, Finns are now witnessing the slow decline of a paper sector unable to keep pace with digitalization. The government is struggling to find ways to prop up others. Mining company Talvivaara Oyj will get a cash injection to stay afloat, the Economy Ministry said this month.
https://instagram.com/p/xdrFbls5Wp/?taken-by=santaclausoffice
Should Santa Claus go bankrupt, it would deprive Finland's politicians of a venue they've often used in the past to entertain visiting dignitaries. Finnish President Sauli Niinisto hosted his Indian counterpart, Pranab Mukherjee, at Santa's office in October. The speaker of Poland's parliament, Radoslaw Sikorski, also went there as part of an official visit.
Before the conflict with Ukraine, Russia represented about 20 percent of Dianordia's revenue. That's now dropped to just under 15 percent, Kariniemi said. Tourists from Japan generate about 18 percent of revenue, while Germans, French and English visitors each bring about 10 percent, he said.
"We have problems at the moment," Kariniemi said. "The world's troubles are reflected in our business."
https://www.google.co.uk/maps/place/Santa+Claus+Office/@66.543441,25.848017,15z/data=!4m2!3m1!1s0x0:0xc8d2f43ead0feab9
Before it's here, it's on the Bloomberg Terminal.
LEARN MORE