Erdogan Set to Send Turkey to Election on Nov. 1 as Markets Drop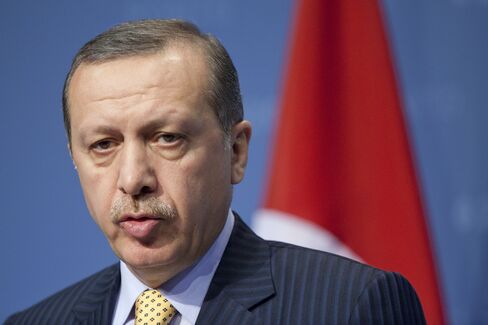 President Recep Tayyip Erdogan is gearing up to declare a repeat election in Turkey after a 45-day period to form a coalition government did little but deepen political divisions and send markets into a tailspin.
Erdogan could call for a new vote immediately after the legal deadline passes at midnight on Sunday. Turkey's interim Prime Minister Ahmet Davutoglu, who failed to agree on coalition terms with any of three opposition parties, called on parliament Thursday to announce plans for a second election before Erdogan acts.
In a break with political tradition, Erdogan declined to give the main opposition leader, Kemal Kilicdaroglu of the secular Republican People's Party, the chance to form a government. Erdogan cited Kilicdaroglu's refusal to meet the president at his newly built 1,150-room palace in the capital.
"Why should I invite someone who doesn't know the road to Bestepe?" Erdogan asked reporters in Istanbul on Friday, referring to the district that houses the presidential palace. "God willing, we'll have an early election on November 1st."
That means voters in Turkey are set to go to the ballot box for a second time in less than six months. In June, they stripped the ruling AK Party of its majority in parliament for the first time in more than a decade. Turkey could hold a repeat ballot within 60 days, Sadi Guven, chief of the Supreme Election Board, said Thursday, proposing possible dates on Oct. 25, Nov. 1 or Nov. 8.
Confidence Plunges
"As things currently stand, another hung parliament seems likely" after a fresh vote, Naz Masraff, director for Europe at Eurasia Group in London, said in an e-mailed note on Friday. "This will prolong Turkey's political uncertainty."
The political wrangling has been accompanied this month by escalating clashes with Kurdish PKK militants in the country's southeast and a wave of violence spilling over from the war in Syria.
The clashes add to investor concerns that political uncertainty is hitting the economy and helped pushed the lira to a record low against the dollar on Aug. 20, after Davutoglu said Monday that he had exhausted all possibilities for a coalition. Data published Friday showed consumer confidence dropped to the lowest level in more than six years in August.
Lira 3.00
The lira fell 0.3 percent to 2.9243 per dollar at 12:30 p.m. in Ankara on Friday, after breaking a key psychological barrier of 3.00 in early trading on Thursday. The yield on Turkey's two-year government debt has soared more than 3 percentage points this year to 11.11 percent, the biggest increase among major markets worldwide.
Turkey began airstrikes on Islamic State last month, an offensive that quickly morphed into an all-out assault on Kurdish militants in Iraq and inside Turkey. The government says it's killed more than 500 Kurdish militants, and more than 50 security officials have died.
Turkey's opposition parties CHP and MHP had coalition preconditions that included reopening 2013 corruption investigations into the government then headed by Erdogan, as well as preventing Erdogan from acting as an executive president.
CHP lawmaker Fikri Saglar on Friday asked parliament to open graft probes into Erdogan and four former ministers in office during his premiership, Hurriyet newspaper reported. Saglar also demanded a probe into alleged shipments of arms to Islamic militants in Syria by Turkey's government, Hurriyet added.
Election Security
CHP also insisted on an overhaul of Turkey's education system to put it back in line with secular principles, along with modifying Turkey's foreign policy. Under Erdogan, ties with former allies including Israel, Syria, Egypt and the U.S. have become strained. The nationalist MHP says one of its main priorities is to end for good now-stalled government peace negotiations with the autonomy-seeking Kurdish militants.
Erdogan will probably tap Davutoglu to form a provisional cabinet composed of members from other parties in proportion to their seats in parliament to govern Turkey up to the vote.
Both CHP and MHP have opposed a new ballot and said they would stay out of an election government. The pro-Kurdish HDP threatened to boycott such a cabinet if its candidates are not accepted as interim ministers.
Erdogan accused the HDP, which won 13 percent of the national vote on June 7, of lying about its separatist ambitions and threatening voters before the last election. He said security precautions would be enhanced before the next one.
"Our people have to isolate those among us who are with the separatist terror group," he said. "We will emerge victorious from this and when we do, our martyrs will be remembered favorably. Their blood won't be shed in vain."
Before it's here, it's on the Bloomberg Terminal.
LEARN MORE