Student-Loan Borrowers Flock to Payment-Relief Programs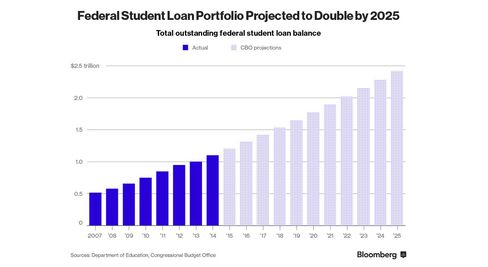 Student-loan borrowers are flocking to relief programs touted by President Barack Obama that lower their monthly payments and put them on a path to debt forgiveness.
Almost 3.9 million former students signed up for income-based repayment plans as of June 30, a 56 percent increase from a year earlier, according to quarterly data released by the Education Department on Thursday.
"We've made it a priority to give Americans better options to manage their student loans and make sure they know about those options," Education Secretary Arne Duncan said in a statement.
More than $200 billion of the $1.2 trillion federal loan portfolio is in a plan that lets borrowers make modified payments, according to data from the government and Moody's Investors Service. As more people use the programs, which offer forgiveness after at least 20 years, the cost to taxpayers is expected to grow. The Congressional Budget Office estimated that's an additional $39 billion for loans granted in 2015 and over the next decade. The U.S. Government Accountability Office is reviewing the cost of the plans.
Struggling borrowers generally pay 15 percent of their incomes after expenses for necessities, such as housing, and the remaining debt is forgiven after 20 or 25 years. Debt can be canceled after 10 years for people who work in public-service jobs or at nonprofit groups.
"We cannot rely just on student loans to fix college affordability," said Ben Miller, senior director for postsecondary education at the Center for American Progress. "We have to keep the price of college reasonable to what borrowers can expect to earn."
In December, under a more generous policy planned by the Obama administration, a bigger group of borrowers will be eligible to pay 10 percent of their incomes. In that program, former graduate-school students can have their remaining balances forgiven after 25 years and former undergraduates after 20 years.
Before it's here, it's on the Bloomberg Terminal.
LEARN MORE