Lira at 3 to the Dollar Brings Turkey Recovery No Closer
Government optimism over weak lira may be misguided
The lira has been in free fall since Turkey's governing AK Party said last week it had failed to form a coalition government, putting the country on course for a second general election in six months.

Political instability, combined with a surge of violence following the collapse of a three-year-old peace process with Kurdish rebels, caused investors to flee the currency, which touched a record low 3 per dollar on Thursday.
Cemil Ertem, an adviser to President Recep Tayyip Erdogan, has said that level may be no bad thing if it makes Turkey's faltering economy more competitive. Here are five charts which suggest the opposite may be true: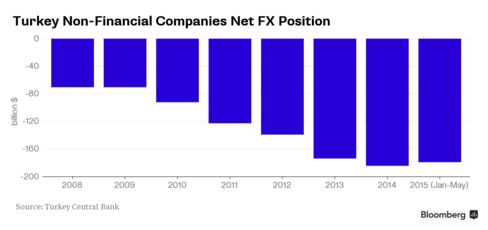 Turkish companies' foreign exchange short position was almost $180 billion as of May, roughly equivalent to a quarter of Turkey's gross domestic product.
Lira weakness makes that debt more expensive and may lead to lower domestic investments and even bankruptcies, said Yeliz Karabulut, a vice general manager at Alan Menkul Degerler AS in Istanbul. On the other hand, if authorities step in to protect the lira, companies will be hurt by slower growth.
``No matter what the central bank does, the companies are in a very difficult position,'' she said.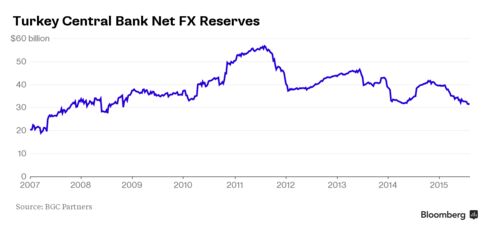 Even if it wanted to, Turkey's central bank has limited capacity to bolster the currency. Talk of raising interest rates typically earns a rebuke from the government; it also has very few dollars to sell in the case of direct intervention.

The bank's net FX reserves stand at just over $30 billion -- less than the $75 billion in short-term FX debt held by Turkey's non-financial companies. It also has to sell dollars to state-run companies to import gas from Russia and Iran.
``Having too little foreign currency means the central bank can't intervene,'' Deniz Cicek, an economist at Finansbank in Istanbul, said by phone. ``The other important weapon is rates. But we know politicians don't like that weapon at all.''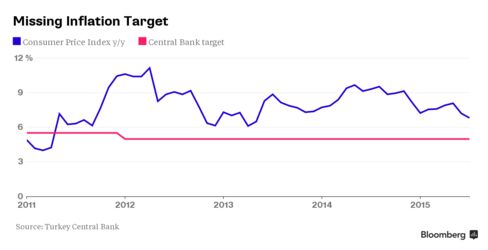 A weak lira also complicates the central bank's efforts to tame inflation, which with a year-end forecast of 6.9 percent is set to exceed the bank's target for a fifth year.
Given that Turkey is a major importer of just about everything from electronics to energy and heavy machinery, it's not surprsing that Deputy Prime Minister Ali Babacan -- seen as the country's economy czar -- has repeatedly said currency depreciation will have a negative impact on the cost of goods.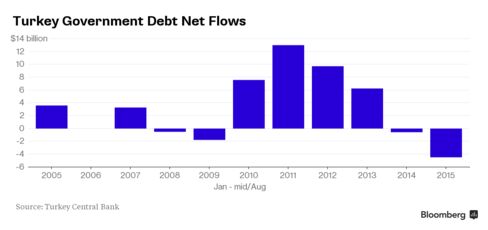 In the meantime, foreign investors aren't waiting for the central bank to act, selling a record amount of government bonds this year. The yield on two-year government debt has climbed more than 300 basis point this year, the most among emerging markets.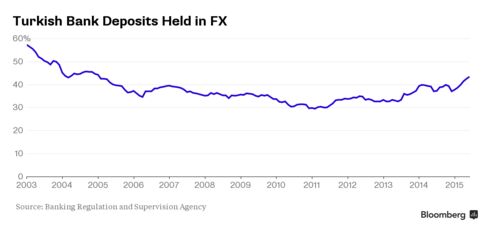 Households and corporations also aren't providing any respite, ditching the lira for foreign currency wherever they can and exacerbating the problem facing authorities. They've increased their foreign-currency savings to 44 percent of total deposits, a level not seen in a decade, as confidence in the lira erodes.
Before it's here, it's on the Bloomberg Terminal.
LEARN MORE