Goldman's Billion-Dollar Babies Spur India Internet Fever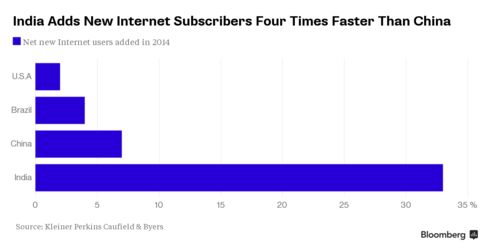 An app Goldman Sachs Group Inc. lists as one of the possible "billion dollar babies" among India's Internet startups shows how local language content is becoming key to expanding the nation's online population.
Dailyhunt, a Sequoia Capital-backed news aggregator and e-book store, offers content in a dozen of India's 122 languages including Hindi and Urdu. The mobile application claims 90 million downloads as it taps demand among the hundreds of millions of Indians who don't speak English.
Dailyhunt is "closing the digital divide by focusing on vernacular content," said Neil Shah, an analyst with Counterpoint Technology Market Research in Mumbai.
Other popular polyglot Indian apps include 21st Century Fox Inc.'s Hotstar, which streams drama and sports, and messaging service Hike. Hotstar users spend an average of 30 minutes a day on the service, Sanjay Gupta, chief operations officer of Star India Private Ltd., said by phone last week. Star India is a subsidiary of 21st Century Fox. The company's goal is to double that average time spent using the app to 60 minutes in the next 12 to 18 months, said Gupta.
Goldman Sachs sees a $300 billion domestic e-commerce market by 2030, and said in a note Dailyhunt could in time join India's Flipkart Online Services Pvt. and Snapdeal.com in being valued at more than $1 billion.
Dailyhunt, until recently known as Newshunt, got almost $10 million in revenue last year from selling e-books and advertisements, Virendra Gupta, chief executive officer of parent Verse Innovation Pvt., said in an interview. The goal is to boost that fivefold in the year ending March 2016, Bengaluru-based Gupta said.
While globally popular apps such as those of Facebook Inc. are still getting Indians online, local ones like Hotstar and Dailyhunt will help keep them surfing for longer, according to Neha Dharia, an analyst at Ovum Plc in Bengaluru.
CHART 1: India is adding Internet users at the fastest pace in the world as affordable smartphones and data plans get more people online, according to Kleiner Perkins Caufield & Byers.
CHART 2: Dailyhunt and local-language music sites such as Gaana and Saavn are emerging as among the most popular apps.
CHART 3: Cisco Systems Inc. predicts compound annual growth of 67 percent in India's mobile Internet traffic through 2019.
CHART 4: The valuations of Flipkart and Snapdeal have been surging, reaching many billions of dollars for each. UBS AG said in April there's no bubble in e-commerce in India, even as industry valuations appear rich on some measures.
Before it's here, it's on the Bloomberg Terminal.
LEARN MORE