Islamic State Group in Egypt Claims Security Building Bomb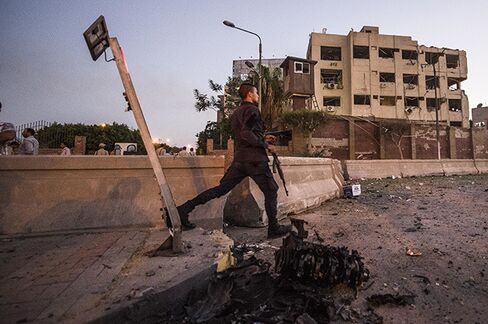 Islamic State's affiliate in Egypt claimed responsibility for a car bombing in Cairo that wounded 29 people and illustrated the group's ability to press its campaign of violence in defiance of a government crackdown.
The bombing Thursday was meant to avenge the reported execution in May of six group members convicted in an attack on military forces, according to a statement by the Islamic State's Sinai Province. The release on social media couldn't be independently authenticated.
The attack, coming on the heels of a bombing near the Italian consulate in Cairo and the execution of a Croatian hostage, highlights the militants' push to strike at the state outside of their main theater of operations in northern Sinai, analysts said. The surge in violence threatens to undermine President Abdel-Fattah El-Sisi's efforts to revive the economy by bringing back tourists and investors.
"They have a relatively small number of people with the necessary skill-sets," Crispin Hawes, managing director of the research firm Teneo Intelligence, said by phone from London. "Over time, these skill-sets will get disseminated" and the "frequency is likely to increase," Hawes said.
Egypt's Interior Ministry said at least six policemen were wounded in the blast. Images carried by the state-run Ahram Gate news website showed windows of the security building shattered and a major part of the perimeter wall destroyed.
"A car suddenly stopped in front of the building, the driver jumped out and fled on a motorbike that was following the car," the ministry said in a statement.
The Sinai Province group has claimed responsibility for many of the deadliest attacks on Egyptian forces since an Islamist insurgency escalated following the army-backed ouster of President Mohamed Mursi in 2013. Security forces have killed hundreds of Islamists since and sentenced hundreds of others to death, including Mursi.
While the violence has been largely confined to northern Sinai, attacks are gradually spreading to other areas, including Cairo. In June, the country's top prosecutor was killed in a car bomb in the capital, prompting the government to pass a new anti-terrorism law that gives authorities more powers.
Before it's here, it's on the Bloomberg Terminal.
LEARN MORE