Bernstein: Investors Need to Completely Rethink the Way They Value Media Companies
In a new valuation, Disney and Time Warner were the biggest losers, while Viacom had been downgraded earlier
Media stocks have been slammed since the start of the month, triggered by comments out of Disney suggesting an accelerated decline in pay-TV subscribers. Since those comments, Disney is down more than 15 percent, dragging others with it.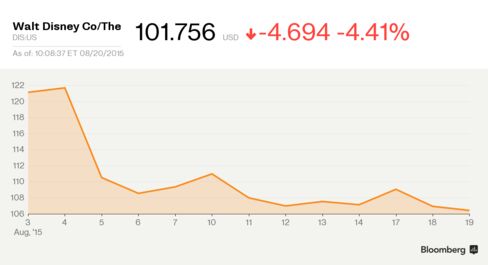 Now Sanford C. Bernstein analyst Todd Juenger and his team have a big message for the media industry: Everything has changed. In a note sent out this morning, Juenger not only downgrades Disney and Time Warner; he also says analysts need to change the way they think about valuing this industry all together, as both of the industry's major revenue streams—pay subscribers and advertisers—are in jeopardy.
Where the stocks/sector have traded historically is irrelevant. The world has changed too much. Where the stocks are currently trading may or may not be appropriate – but why?… We have come to believe the affiliate fee revenue stream deserves a higher risk premium than it did before. The question of whether pay-tv sub declines are accelerating is only a question of 'over what time frame?'
It gets worse.
We believe the U.S. television industry is entering a period of prolonged structural decline, caused by a migration of viewers from ad-supported platforms to non-ad-supported, or less-ad-supported platforms. We favor companies that have the least exposure to U.S. advertising, the most exposure to sports, and advantaged positions internationally. But we fear the entire sector will struggle to work until the content owners take concerted action to reclaim on-demand viewing from the SVOD services and use it to protect affiliate fees.
In this new valuation, Disney and Time Warner were the biggest losers, although Viacom had already been downgraded. Until recently, Disney had been one of the top performers in the Dow Jones Industrial Average. Fox was one of Bernstein's reluctant bright spots.The firm has doubts the stock will continue to perform in quarters to come, but the team said they "cannot force our model or 12-month target price any lower." Time Warner was noted as a close call, but the analysts believe the company's guidance for 2018 is at risk. Disney was also downgraded despite positive projects in the pipeline, such as the college football championship and an expansion of the Star Wars franchise. Lastly, they called Viacom a "clear structural short." Ouch.
Media stocks are getting slammed today: Disney is off over 4.5 percent. Viacom is off over 5 percent. Time Warner is down over 3.5 percent.
Before it's here, it's on the Bloomberg Terminal.
LEARN MORE