A Corpse Signals More Burundi Violence as President Sworn In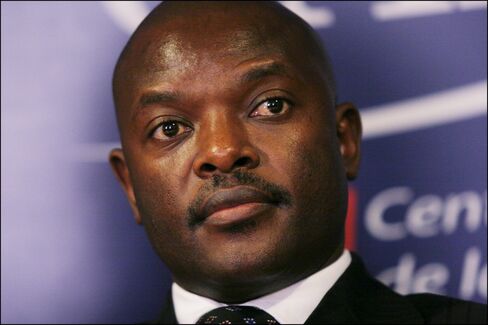 A tied-up corpse found early Thursday highlighted the bloodshed Burundi may still endure as President Pierre Nkurunziza was sworn in for a disputed third term a few miles away.
Local residents shuffled past the middle-aged man lying on a street in the capital, Bujumbura, some barely noticing what has become a common sight since violence flared in April and Nkurunziza dug his heels in against opposition to his rule.
At least 90 people have been killed in street battles between police and opposition supporters since April. In recent weeks, the violence has shifted to the nights, with isolated shots ringing out and bodies being discovered in the morning. The fighting harks back to a 12-year civil war that claimed the lives of 300,000 people before it ended in 2005.
As Nkurunziza won last month's vote, his opponents said he had violated the deal that brought peace a decade ago and limits him to two terms. His supporters argue that his first term doesn't count because he was chosen by parliament rather than by popular vote.
"It's not going to calm down," Thierry Vircoulon, the Central Africa project director for the Brussels-based International Crisis Group research group, said in a phone interview. "On a daily basis people are killed on both sides."
Deadliest War
The United Nations has said the unrest in Burundi has the potential to destabilize the Great Lakes region that includes the Democratic Republic of Congo, Africa's top copper and tin producer, and Rwanda, which had a genocide in 1994. Civil wars in the early 1990s in Burundi and Rwanda set the stage for conflict in neighboring Congo, the deadliest war in Africa's modern history.
With the U.S., the UN and the European Union saying the elections weren't credible, the economic implications could be dire. The U.S. on Thursday threatened to review Burundi's membership of the African Growth and Opportunity Act if the situation isn't resolved soon. Belgium threatened to cut aid.
The $2.72 billion economy, which is based largely on coffee exports, averaged annual growth of 4 percent since 2010, according to government data.
"We're likely to see this continued insecurity which will have a drastic impact on Burundi's ability to bounce back economically," Yolande Bouka, a Nairobi-based researcher for the Institute of Security Studies, said by phone. "This could trigger a vicious circle, where there is little economic opportunity and that leads to even more frustration."
Activist Shot
As a sign of the continuing instability, Nkurunziza's inauguration was only announced the same morning. The 51-year-old warned "those who have decided to attack the country" that "they will be finished one-by-one like scattered powder."
Prominent rights activist and government critic Pierre Claver Mbonimpa was shot and seriously injured in Bujumbura on Aug. 3. Other human rights activists, journalists and opposition members have become "prime targets," with many forced to flee the country, New York-based Human Rights Watch said in an Aug. 5 article on its website.
The country's divisions run right through the army. In May, a general participated in an attempted coup. Four army members are being investigated for their links to the Aug. 2 killing of General Adolphe Nshimirimana, a former intelligence chief and adviser to Nkurunziza.
When the street battles were at their bloodiest in May, photos of Nkurunziza were released participating in a soccer training session, controlling the ball on his head or blasting it goalwards.
By surviving the violence and international pressure, Nkurunziza has shown how "stubborn" he is, Vircoulon said.
At his inauguration Nkurunziza showed off his confidence, saying: "No one can prevent the sun from shining."
Before it's here, it's on the Bloomberg Terminal.
LEARN MORE