Russia Rewrites Growth Blueprint as Recession Dooms Consumer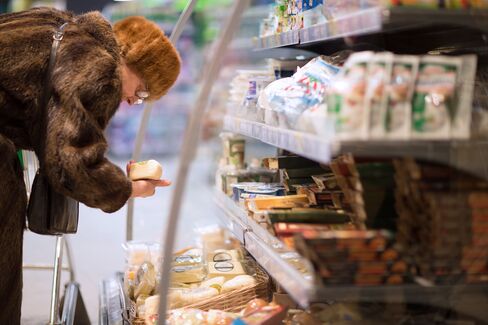 Russia's consumer economy, powered for more than a decade by a $2.1 trillion energy windfall, is in agony.
The situation is getting worse, according to data released Wednesday by the statistics office in Moscow. Wages adjusted for inflation plummeted 9.2 percent last month from a year earlier and retail sales fell at the same rate. As an extended downturn in oil prices sets in and the ruble slumps to new lows, the list of candidates to replace Russia's growth engine is short. Most economists can only think of one thing: investment.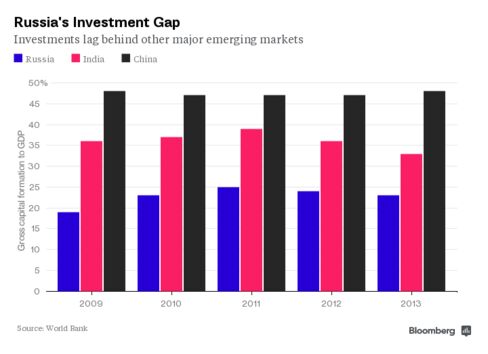 Reversing an 19-month slump in capital spending by companies, the longest slide in almost two decades, will be an uphill task. With foreign investors shunning Russia amid international sanctions, domestic savings may have to carry the financing load, according to UralSib Capital, which estimates the economy last year was underfunded by about $60 billion for a desired growth of 3 percent to 4 percent a year.
"If there will be growth, it will be mainly due to investment in the next 10 years," Yaroslav Lissovolik, an analyst at Deutsche Bank AG in Moscow, said in an interview. "Without it, we will wear the consumer out and won't reach that potential, which is mainly concentrated in the investment component."
Energy, Consumption
For the past decade and a half, Russia's growth model was based on funneling income from energy exports into domestic demand, allowing for higher wages and output increases, according to an article co-authored by Alexei Kudrin, who was finance minister for more than a decade before leaving the government in 2011.
Measured in 2013 dollars, the oil and gas windfall was $900 billion in the nine pre-crisis years to 2009 and another $1.2 trillion in the following five years, it estimates.
The ruble declined about 46 percent against the dollar in the past 12 months, the worst performer globally. It traded 0.8 percent weaker at 67.16 versus the dollar as of 5:26 p.m. in Moscow.
Before a currency crisis, sanctions over the conflict in Ukraine and slumping oil prices shook the economy last year, consumption accounted for about half of gross domestic product, while as much as a quarter of Russia's output are linked to the energy industry.
The Bank of Russia said that it may worsen its forecast for a 3.2 percent contraction this year. Economy Minister Alexei Ulyukayev said on Thursday that GDP will probably return to growth next year, although his ministry may lower its projection for 2016.
Investment Recovery?
To fill the void left by the biggest drop in consumption under President Vladimir Putin, the government will have to harness the potential of a country that's bedeviled investors from Ikea to General Motors Co. French lender BNP Paribas SA exited its local fund-management venture six years after its acquisition and German reinsurer Munich Re closed its Moscow office. Franklin Templeton, which oversees almost $900 billion of assets, is liquidating its 20-year-old regional fund.
The share of investment in GDP is set to approach 21 percent this year, down from the "already very low" 23 percent in 2013, Alfa Bank said in a July report. The measure has declined every year since 2011, when it was 25 percent, according to the World Bank. Last month, investment was down 8.5 percent from July 2014, the biggest drop in almost six years.
Corporate Shift
The building blocks for a rebound may already be in place. With corporate profits at a record, companies will soon look to reallocate capital to focus on expansion, according to Bank of America. In the first five months, the combined net income of companies increased 58 percent from last year, according to the Federal Statistics Service.
Investment demand will probably bottom out this quarter, putting it on track for a full-year decline of 10 percent in 2015, said Oleg Kouzmin, an economist at Renaissance Capital.
Other signs of improvements include a more flexible exchange rate after a shift to a free-floating ruble last year, according to Deutsche Bank's Lissovolik. With time, slower inflation will bring down interest rates, he said.
"This gives more room for capital inflows, for growth in investment," Lissovolik said.
Savings, which according to UralSib Capital will be the key source of funding, are on the rise. Household ruble deposits climbed to 14.8 trillion rubles ($219 billion) on July 1. The savings rate soared to 13.6 percent in the first half from 7 percent last year.
"With corporate profits running at an all-time high this year, the Russian economy already has enough resources for investment recovery," Vladimir Osakovskiy, chief economist for Russia at Bank of America in Moscow, said in a report. "So far, profits have been used for deleveraging and dividend flow, but this pressure should start to weaken from the third quarter."
Before it's here, it's on the Bloomberg Terminal.
LEARN MORE