How the Worst Performing Oil Companies Are Making More Than Exxon
Some of the worst-performing oil companies in North America are getting more for their crude than Exxon Mobil Corp. and other giants. That may not help them for long.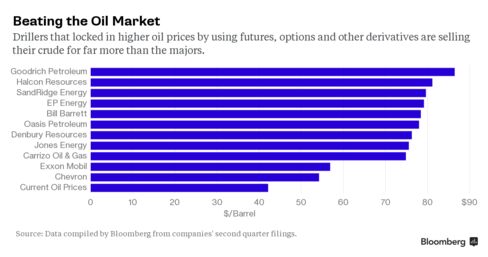 Goodrich Petroleum Corp., the biggest loser in the Bloomberg Intelligence index of North American independent producers, sold its output for $86.49 a barrel in the second quarter, according to data compiled by Bloomberg. Halcon Resources Corp., which is down 49 percent this year, reaped $81.18. Compare that with Chevron Corp., which received an average $54.26, and Exxon Mobil, which got $56.90.
The reason: lack of cash. Smaller companies with riskier credit bought insurance against an oil crash, which locked in higher prices and reassured lenders that they'd get paid back. The hedges have been critical as oil dipped more than 60 percent since June 2014 to a six-year low below $42 a barrel.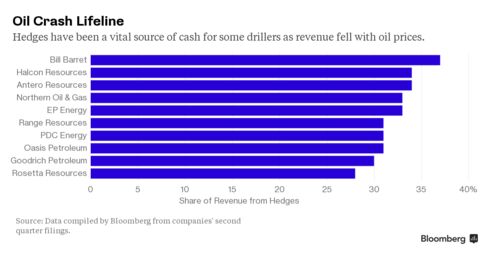 "The more debt you have, the more hedges you need to protect yourself in a downturn," Leo Mariani, an analyst with RBC Capital Markets in Austin, Texas, said Aug. 11 by phone. "That's why the really big companies don't have hedges. They don't have much debt, and they don't need them."
Exxon Mobil can afford not to hedge. The company reported last month that it has $4.3 billion in cash, even after its worst quarterly profit since 2009.
Representatives from Chevron, Goodrich and Halcon didn't return calls or e-mails seeking comment, and a spokesman from Exxon declined to comment. The average prices for Goodrich, Exxon and Chevron include crude and natural gas liquids.
As oil hedges expire next year and in 2017, companies such as Halcon and Goodrich will feel the strain, said Brian Velie, an analyst with Capital One Securities in New Orleans. While well-timed hedges saved them this year, the companies are unlikely to be adding new protection now that prices have collapsed.
"I think they're really reluctant to hedge in at $50 oil," Velie said. "It's almost like admitting that you missed the window."
Before it's here, it's on the Bloomberg Terminal.
LEARN MORE