Norway's Fund Posts First Loss in Three Years as Bonds Drop
The world's largest sovereign wealth fund lost 73 billion kroner ($8.8 billion) in the second quarter, the first decline in three years, dragged down by falling global bond and stock markets.
The $870 billion fund declined 0.9 percent, weighed down by a 2.2 percent loss on its bonds and a 0.2 percent drop on its stocks, the Oslo-based fund said Wednesday. Its real estate holdings rose 2 percent.
"The return on fixed-income investments was affected by an increase in yields in the fund's main markets," Yngve Slyngstad, chief executive officer of the fund, said in a statement. "On the equity side, U.S. stocks pulled down the result."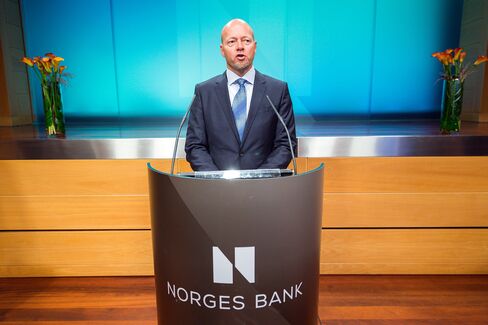 The fund, where Norway places most of its oil wealth to avoid overheating the economy, has reached its peak amid a collapse in oil prices, according to the central bank. Slyngstad has also warned that the fund faces diminished returns as central banks across the developed world have unleashed stimulus that has driven bond yields to record lows.
It held 62.8 percent in stocks at the end of June, up from 62.5 percent in March. Bond holdings fell to 34.5 percent from 35.3 percent and it held 2.7 percent in real estate. The fund is mandated by the government to hold about 60 percent in stocks, 35 percent in debt and 5 percent in properties.
First Investment
U.S. and European stocks and bonds declined in the quarter on concern over the situation in Greece and amid speculation the Federal Reserve will start raising interest rates this year.
The fund's largest stock holding was Nestle SA, Apple Inc., followed by Novartis AG. The biggest bond holdings were in U.S., Japan and Germany.
Investments in emerging markets equities returned 1.5 percent in the quarter, accounting for 9.6 percent of the fund's stock holdings. It invested for the first time in Saudi Arabian participation certificates as it increases exposure to emerging markets.
U.S. Treasuries made up 17 percent of the fund's bond holdings followed by Japanese and German government debt. Its largest increase in fixed-income holdings were in German, Chinese and Austrian bonds while it cut holdings in bonds from Japan, France and the U.K. South Korea and Mexico were both among the fund's top 10 bond holdings.
The fund lost 2.9 percent on its government bond holdings and 2.9 percent on its corporate bonds. Euro-denominated bonds declined 4.3 percent in the quarter.
"We have a portion of the bond portfolio that is currently at negative yields in Europe, that is just the nature of the market these days," Deputy CEO Trond Grande said in an interview after a press conference. "The direct and obvious impact is that you get negative rates, that's a cost in itself.
Before it's here, it's on the Bloomberg Terminal.
LEARN MORE