How Challenging Carlos Slim Is Helping Mexico Tame Inflation (And Why It May Not Last)
Billionaire Carlos Slim's pain is consumers' gain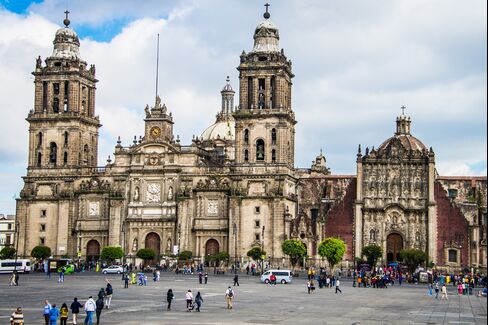 Across Latin America the drop in commodity prices has sent currencies tumbling, spurring faster inflation. Everywhere, that is, except for Mexico.
Mexican consumer prices rose 2.74 percent in July from the year earlier, the slowest pace in almost half a century and less than any other major economy in the region.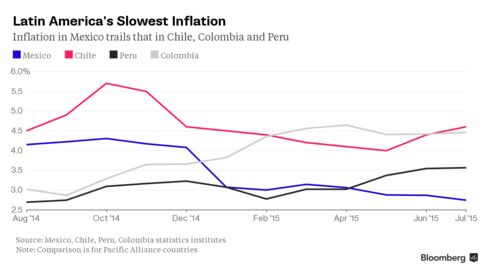 The last time inflation was this slow in Mexico was 1968, when the Vietnam War was at its height, the Beatles were in the charts with "Hey Jude" and the Soviet leadership was preparing to crush the Prague Spring.
So what makes Mexico different than its Latin American counterparts? Part of the answer lies with billionaire Carlos Slim. An overhaul of Mexico's telecommunications industry has increased competition for Slim's America Movil SAB and eliminated domestic long-distance charges for all carriers, slashing communication costs by 12.5 percent in the past year. That's far more than in any other country in the four-member Pacific Alliance that also includes Colombia, Chile and Peru.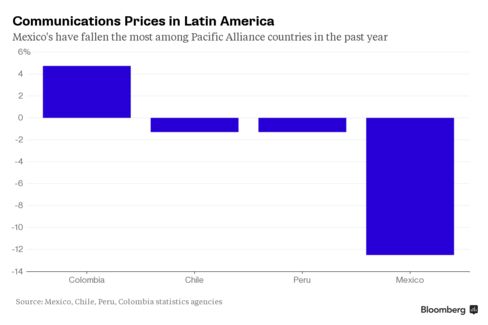 Food costs in Mexico are also rising slower than in the three smaller economies, with staples such as eggs and avocado prices declining.
That is harder to explain. Mexico's peso has dropped 21 percent against the dollar in the past year, compared with a 16 percent decline in the Chilean peso and the 13 percent drop in Peru's sol. While the depreciation has pushed up import costs in Chile and Peru, it has had a more limited impact in Mexico, partly because of weak economic growth and a depressed job market.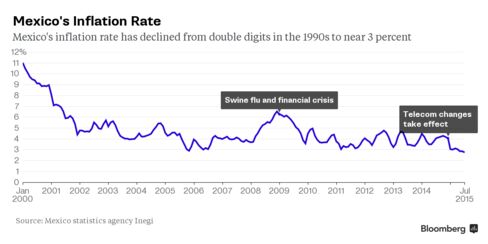 Having the slowest inflation among Latin America's major economies is allowing Mexico to leave interest rates at a record low to confront sluggish growth. Mexico has kept borrowing costs at 3 percent since June 2014, below rates in Colombia and Peru and matching that in Chile.
Mexicans may not enjoy the region's lowest inflation for long. Analysts expect inflation to ease to 3.2 percent in Chile next year, 2.5 percent in Peru and 3.3 percent in Colombia. Prices in Mexico, meanwhile, may edge back up to 3.5 percent, putting it marginally above its peers. The central bank's breathing space is running out.

Before it's here, it's on the Bloomberg Terminal.
LEARN MORE