Five Things Everyone Will Be Talking About Today
There's a lot going on. Catch up here.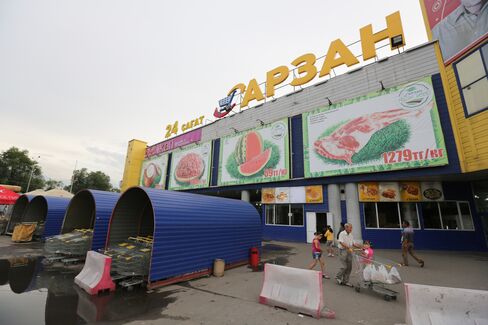 More yuan devaluations, Germany approves the Greek bailout, and everyone's waiting for the minutes. Here are the big stories that people in markets are talking about today.
Dong devaluation
The ripple effects from last week's devaluation of the yuan continue to be felt in world markets. For the third time this year, Vietnam has devalued its currency, the dong. Officials are attempting to keep the country's export market competitive, and there is rising concern about the impact of the eventual Fed rate hike on the economy.
Tenge devaluation
It isn't just Vietnam that devalued. Kazakhstan dramatically devalued its currency, the tenge. The currency fell 4.4 percent against the dollar to 197, which was the biggest fall since early 2014. Kazakhstan is getting slammed by the crash in oil prices, as well as the downturn of its neighbor, Russia. Between the devaluations of the dong and the tenge, it appears that the spiral of lower commodity costs weakening economies is continuing.
Germany approves Greek bailout
As expected, the German parliament has approved the latest Greek bailout. Despite rising opposition to more aid for Greece, the vote was overwhelming, with 454 members voting YES and 113 voting NO, with 18 abstentions. There had been some concern about a "revolt" within the governing caucus, but it appears not to have been dramatic. Both Angela Merkel and Wolfgang Schauble had lobbied hard for the deal. The Netherlands is holding a debate today on the bailout.
CPI coming up
All eyes will be on the U.S. CPI report at 8:30 a.m. to see if there are any signs of firming inflation. Core inflation is expected to rise 1.8 percent from last year, while the headline is expected to be up just 0.2 percent thanks to the collapse in energy prices over the last year. With a potential Fed rate hike less than a month away, this will be a closely watched and scrutinized number.
Fed Minutes
At 2 p.m. ET, the Federal Reserve will release the minutes of its July meeting. You can read a full preview of the minutes here. People will be scrutinizing every word for signs that the first rate hike could come in September. There will also be interest in what, if any, concerns FOMC members had about foreign developments, such as the weakness in China.
And here are some stories that have caught our eye:
Want to receive this post, and more, into your inbox every morning? Sign up here.
Before it's here, it's on the Bloomberg Terminal.
LEARN MORE