Merkel Contains Greek Bailout Revolt Before German Vote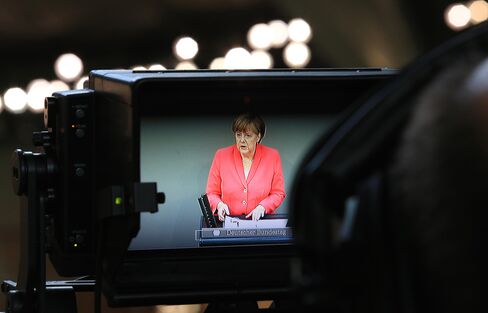 Chancellor Angela Merkel won support for Greece's third bailout from most of her party bloc's lawmakers in a test vote, suggesting that the German parliament will back the program by a wide margin.
In a sign that Merkel may have contained a party revolt, 56 members of her parliamentary caucus opposed approving the 86 billion-euro ($95 billion) aid package and four abstained, a Christian Democratic party official said. In July, 60 of her 311 lawmakers voted against talks on further aid to Greece.
Germany's lower house was recalled from its summer recess for the second time to vote on Wednesday after a week of hard lobbying. Merkel voiced confidence that the International Monetary Fund will help provide loans, while Finance Minister Wolfgang Schaeuble said extending Greece's financial lifeline is in Europe's interest.
"This is a good foundation for allowing Greece to generate prosperity and growth again," Eckhardt Rehberg, budgetary affairs spokesman for Merkel's caucus in parliament, told reporters in Berlin before the test vote on Tuesday.
A day after parliaments in Spain, Austria and Estonia backed the bailout, Germany's Bundestag meets at 9 a.m. Berlin time and Dutch lawmakers will hold a debate a few hours later. Parliamentary approvals will clear the way for the European Stability Mechanism, the euro area's financial backstop, to set in motion the first payout to Greece in time to meet a 3.2 billion-euro payment to the European Central Bank due Thursday.
Schaeuble's Role
Merkel can count on support from the Social Democrats, her coalition partner, and the opposition Greens. Her coalition has consistently backed financial rescues during Europe's debt crisis, though dissent has grown with each ballot. Germany has been the biggest country contributor to euro-area bailouts.
In closed-door remarks to her caucus before the test vote, Merkel said Greece faces a tight web of economic-reform conditions for its bailout, according to the party official, who asked not to be named because the meeting was private. She also told members she has no doubt the IMF will eventually join the aid program, the official said.
Schaeuble, speaking before Merkel, said it would be irresponsible and against Germany's interest to reject the aid plan, the official said.
"We all agreed that the result of the negotiations with Greece marked a substantial step forward compared to the months before," Peter Altmaier, Merkel's chief of staff in the chancellery, told reporters after the straw poll. "Schaeuble was a good negotiator."
Bailout opponents argue that Greece is in a debt trap and that policy makers are bending euro-area rules to hold the currency union together.
"I will not be able to consent," Hans Michelbach, a lawmaker in the Christian Democratic Union's Bavarian sister party, told ZDF television. "I am a professional businessman, I can read budgets and it is clear that we can no longer reach debt sustainability. I believe that we must be honest -- that the beginning of a transfer union is in the making."
Before it's here, it's on the Bloomberg Terminal.
LEARN MORE