Budapest Downpour Triggers Flash Floods, Hits Agriculture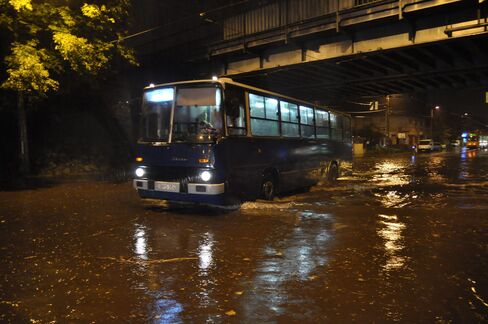 A downpour in Budapest triggered flash floods in the Hungarian capital, triggering power failures, while extreme weather elsewhere further damaged the country's already weakened agricultural industry.
Firefighters rescued stranded passengers from cars and helped pump water from flooded basements and subway stations across the city on Monday evening, the Emergency Services agency said in a statement on its website. No injuries were reported. Some people were evacuated from their homes.
The storm dumped more than 80 millimeters (3 inches) of rain in the span of an hour on Monday evening, more than the monthly average of 55 millimeters to 60 millimeters for August, the National Weather Service said on its website.
Extreme weather in recent days, including a heat wave and storms, may have caused as much as 100 billion forint ($358 million) in damages to corn producers alone, news service MTI reported, citing Jozsef Vancsura, head of the National Association of Grain Producers. It probably reduced their output by a third to 6 million tons, he said.
Damage to sunflower production is only now being assessed, Vancsura told MTI. A drop in agricultural output was primarily responsible for economic growth slowing more than forecast to 2.7 percent in the second quarter from the same period a year earlier. Gross domestic product expanded 3.5 percent in the first quarter.
Before it's here, it's on the Bloomberg Terminal.
LEARN MORE