Sri Lanka Central Bank Head to Resign If Rajapaksa Wins Vote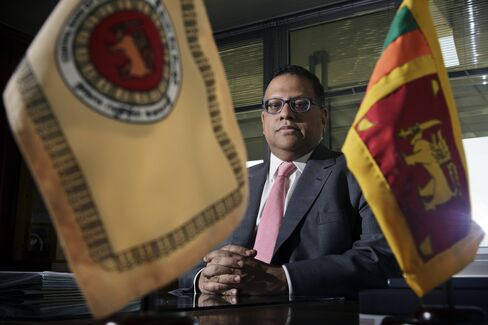 Sri Lankan central bank Governor Arjuna Mahendran will find out on Tuesday if he still has a job.
Mahendran plans to step down if former President Mahinda Rajapaksa returns to power after parliamentary elections on Monday. Mahendran, formerly a wealth manager with HSBC Holdings Plc, took over the Central Bank of Sri Lanka in January after President Maithripala Sirisena ended Rajapaksa's 10-year rule.
"If Mr. Rajapaksa becomes prime minister, which I doubt very much by the way, I would definitely offer my resignation to the president," Mahendran said in an interview at his Colombo office on Monday. "I would want to give him the opportunity to choose his governor if he's prime minister."
A Rajapaksa victory risks leading to policy clashes with Sirisena, who won on promises to end corruption, rollback authoritarian measures and implement a more balanced foreign policy. Ethnic relations on the island of 21 million people are still fragile six years after the end of a bloody civil war.
Sirisena told citizens to enjoy "the country's most peaceful election in the history." The election commission said there were no major complaints.
While early results started trickling in late on Monday, a clear result is expected on Tuesday morning. The benchmark Colombo Stock Exchange All Share Index gained 0.4 percent on Monday, while the rupee weakened 0.5 percent to near an all-time low.
The main fight is between the United National Party backing Sirisena, and Rajapaksa's Sri Lanka Freedom Party. Both lead coalitions with smaller parties.
The UNP is "confident of victory," Prime Minister Ranil Wickremesinghe, who heads the party, told reporters while voting in Colombo.
Rajapaksa Confident
Rajapaksa told reporters he was confident of winning 117 seats, which would be a majority in the 225-member parliament.
"Our victory is very clear," he said after voting on Monday morning at his home in southern Hambantota district.
Mahendran has become a talking point in the campaign, with Rajapaksa's allies accusing him of malfeasance over an auction of 30-year bonds in January that raised 10 billion rupees ($74 million). About half of the issuance went to a company linked to Mahendran's son-in-law.
A committee probing the allegations said in April that Mahendran had no direct role in deciding the amount accepted at the auction. It did, however, call for further investigation of Bank of Ceylon, Sri Lanka's biggest state-run commercial bank, which helped route some of the bids. The bank said in May that it's seeking an explanation over the sale.
Bond Probe
Mahendran has denied wrongdoing and said he implemented an auction system to allow the government to raise more funds from markets to finance the deficit. Under Rajapaksa, the central bank relied more on private placements to raise cash.
"I'm clear in my conscience that there was no such privileged information that was shared with anyone, let alone any relative of mine," Mahendran said.
Mahendran said that while the global inflation outlook remained benign, too much monetary stimulus risks stoking domestic prices. He said that while the rupee has weakened after the devaluation of the Chinese yuan, Sri Lanka's reliance on remittances means it benefits from stability.
"You don't want to aggressively devalue the currency even though whoever remits would get more rupees," Mahendran said. "From an investment perspective, the real value of their investment would diminish with an unstable currency."
Before it's here, it's on the Bloomberg Terminal.
LEARN MORE